Hello crafty friends. Do you have butterflies where you live at the moment? It's been great to see the different butterflies in Tokyo compared to the ones I know from Australia. And of course, there's this beautiful creature below. I can't get enough of this Dearest Friend stamp. It may be one of my all time favourites. Right at this moment I'm in a 14th floor room sitting in quarantine after arriving in my homeland of Australia. We need to stay here for 14 days. They're serious about it! There's guard at the end of the hall, and lots of army personnel in the lobby! So, no butterflies for me for another week and a bit!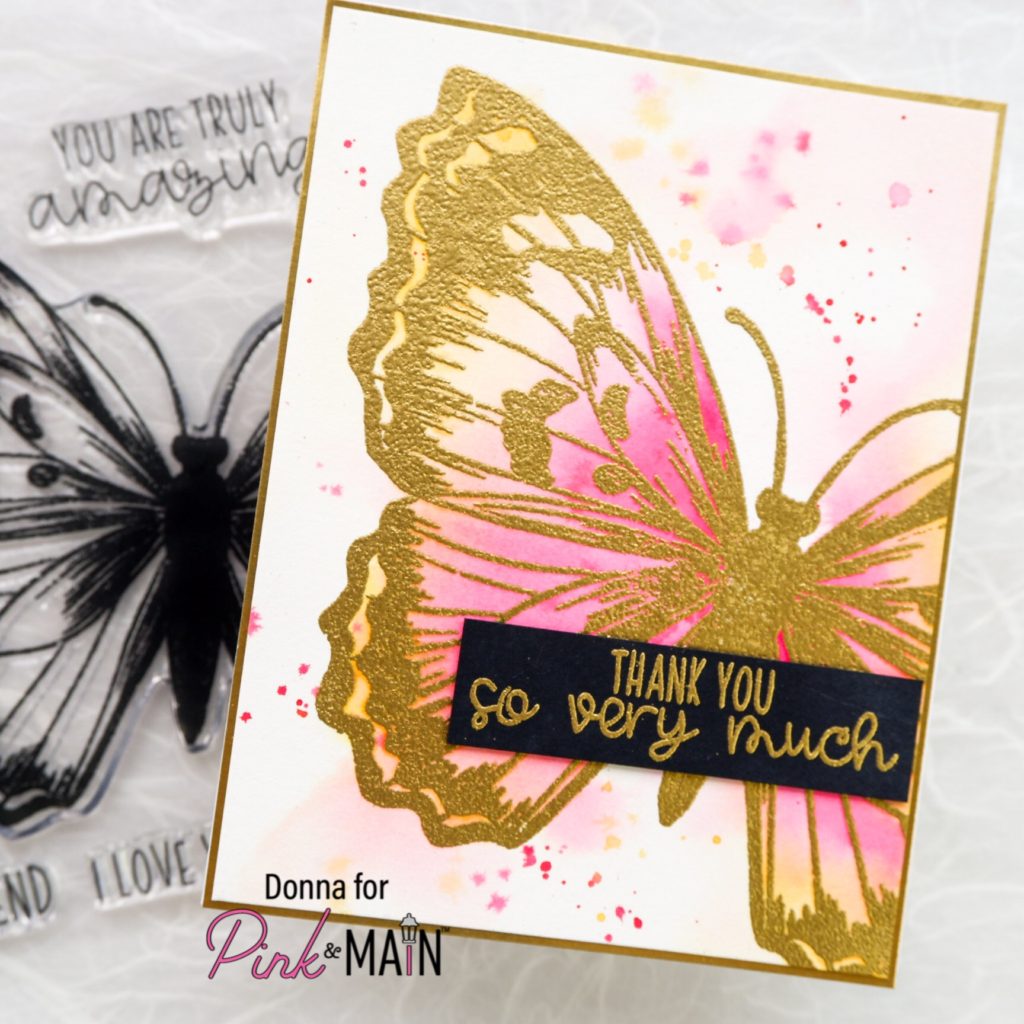 I made this card using a two layered stamping process. The first stamping was in a light coloured ink. I used Ink on 3's fadout ink. I used the pale image that was now on my watercolour paper to inform where I put my watercolours. It starts out as a bit of a hot mess because of the way the ink takes up the watercolour, but as I knew I'd be embossing over the top, I wasn't worried. I put the brightest colours near the middle of the butterfly. I used Daniel Smith Watercolours for this project.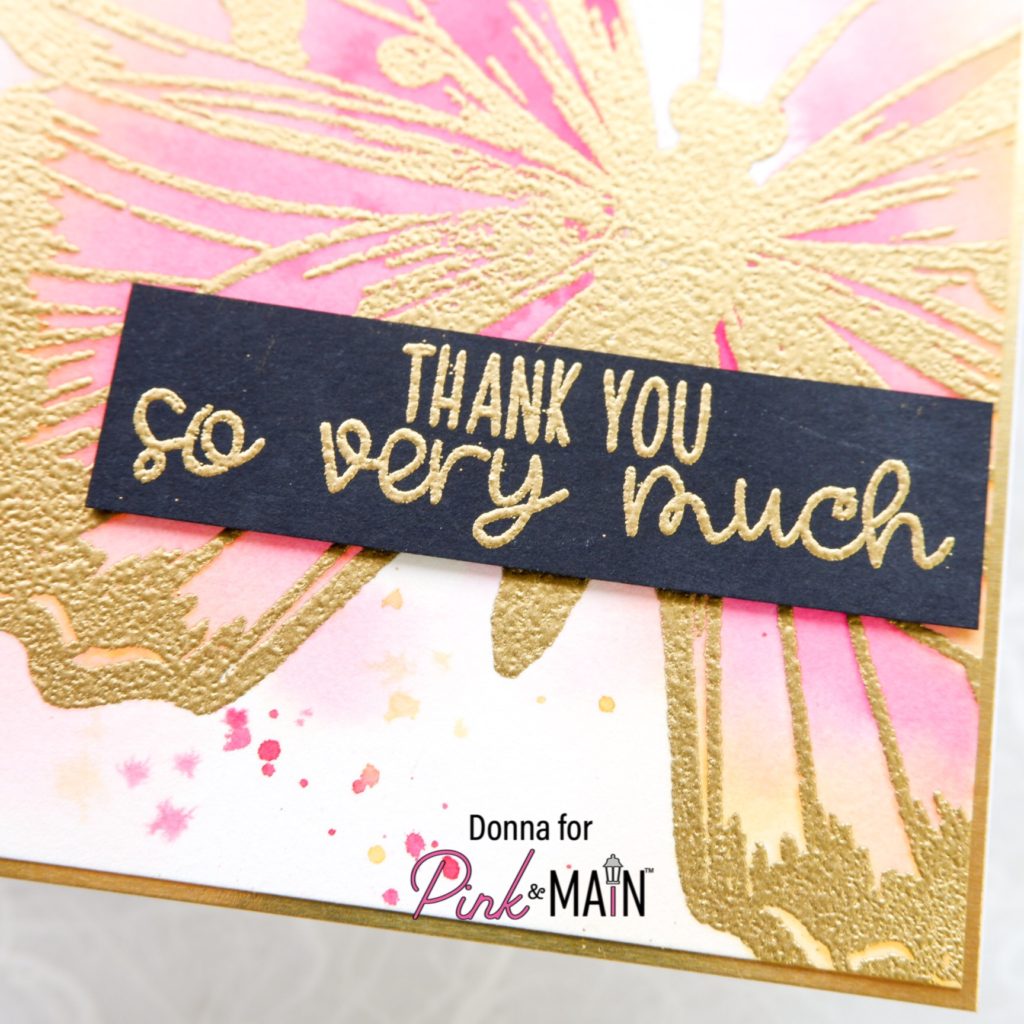 Once I had coloured the wings of the butterfly, I sprayed clean water onto the card so that the image would be nice and flowing, and the colours would spread over the page. This did warp the watercolour paper, so I ran it through my die cutting machine to flatten it again once it was dry.
I then stamped the image again (I'd left the stamp in my MISTI stamping platform so it was a simple matter of putting the card back into the same corner). This time I stamped with Versamark clear ink, and embossed with Wow! gold embossing powder, before spattering the whole card with more of the pink and yellow watercolour.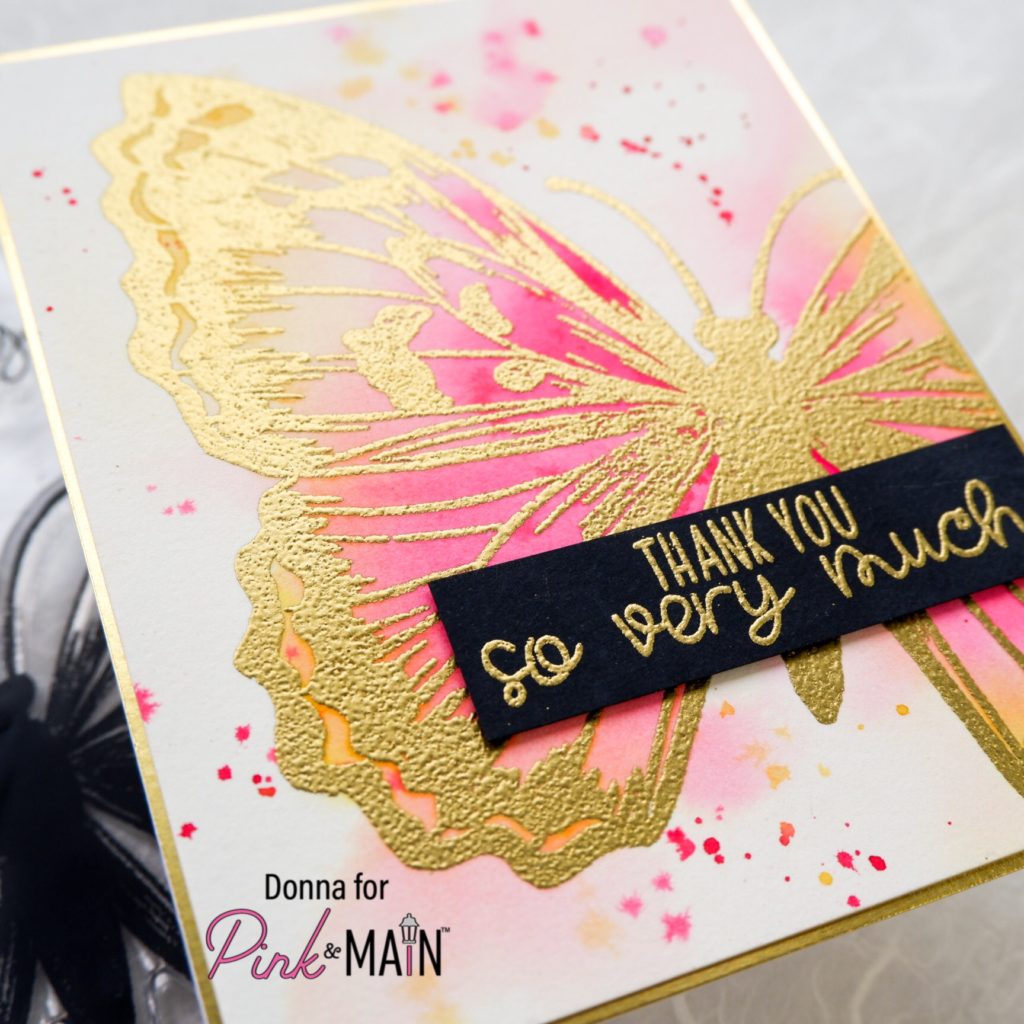 The sentiment comes from the same Dearest Friend stamp set, and I heat embossed this in the same gold that i used on the butterfly. I also used a piece of Pink and Main Gold cardstock to layer the card.
Get ready to see more of this butterfly stamp from me! Until next time, stay safe, and may you have butterflies in your life! See you on the outside!
Blessings,
Donna
These are the supplies I used. You can click on the link to shop. Where available, I have used affiliate links, which means that I will receive a small commission at no cost to you. I've tried to link to companies in different countries, so you can save on postage costs. Thank you so much for your support.

My Sweet Petunia MISTI
Shop at:
SBC | SSS

Daniel Smith Watercolour
Shop at:
O

Versamark Ink
Shop at:
SBC | SSS

Pink and Main Dearest Friend stamp set
Shop at:
P&M | SSS

Strathmore Watercolour Paper
Shop at:
SSS

Daniel Smith Watercolour paint set
Shop at:
SBC

Wow! Gold Embossing Powder
Shop at:
SSS

Pink and Main Foil Cardstock gold and silver
Shop at:
P&M | SSS

Ink on 3 Fadeout Ink
Shop at:
SSS