Hello crafty friends. Today I have another colouring idea for those who are intimidated by blending with markers. ( Also for those, who like me seem to argue with the markers when blending red violets!) This lovely rose from the very aptly named Roses Stamp set has been coloured entirely without blending. Today's post uses Pink and Main Products. Their April release is absolutely full of flowers, and I'm loving it.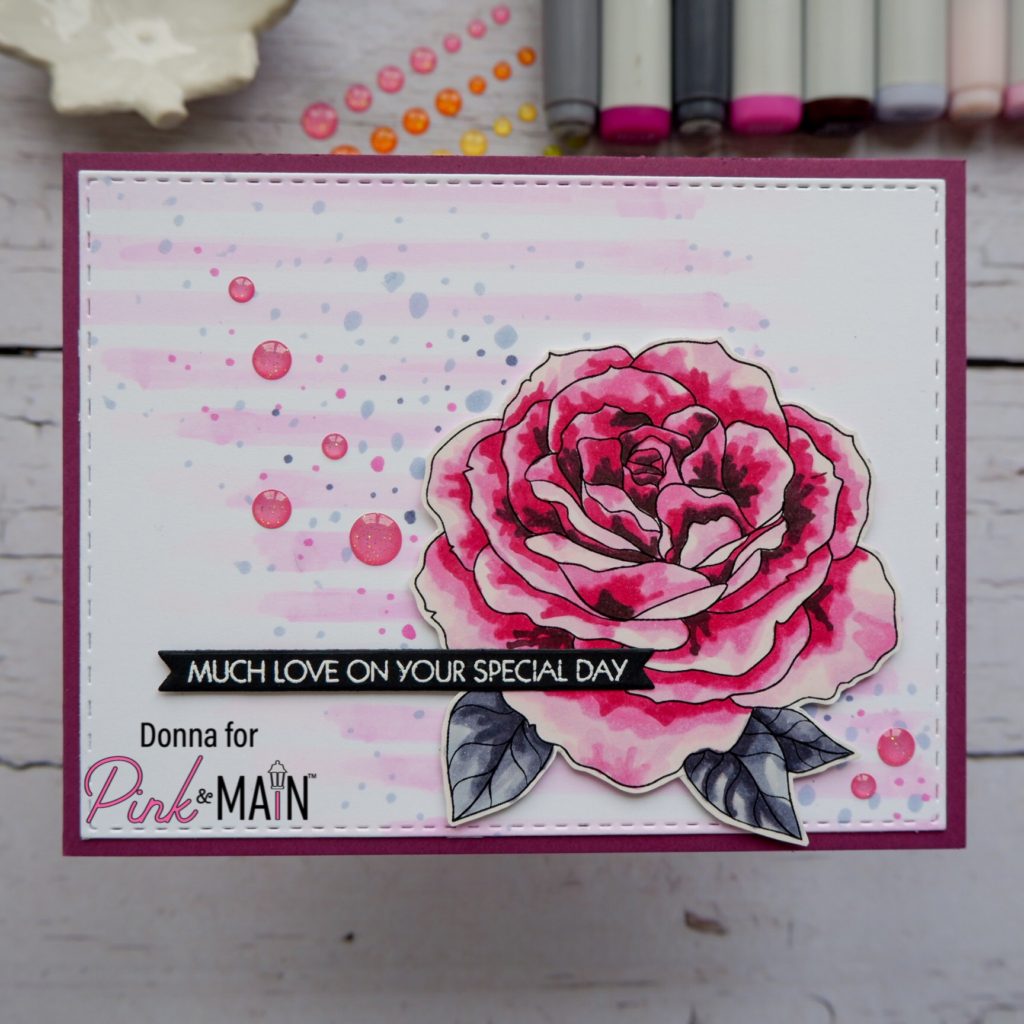 This method of colouring is much quicker, and it doesn't require going over the same area more than once. Starting with the lightest colour, I added 'shapes' of each colour to each petal. I used darker colours towards the centres of each petal, and lighter colours on the outsides. I tried to vary the shapes and amounts of each colour. I used darker colours in the middle of the whole rose, and the two lightest shades on any petals that were turned over. if you look at it close up, the colours don't seem to make sense, but when you look at the flower as a whole, that's where the magic is. Once the image is coloured, it can be cut with the matching dies.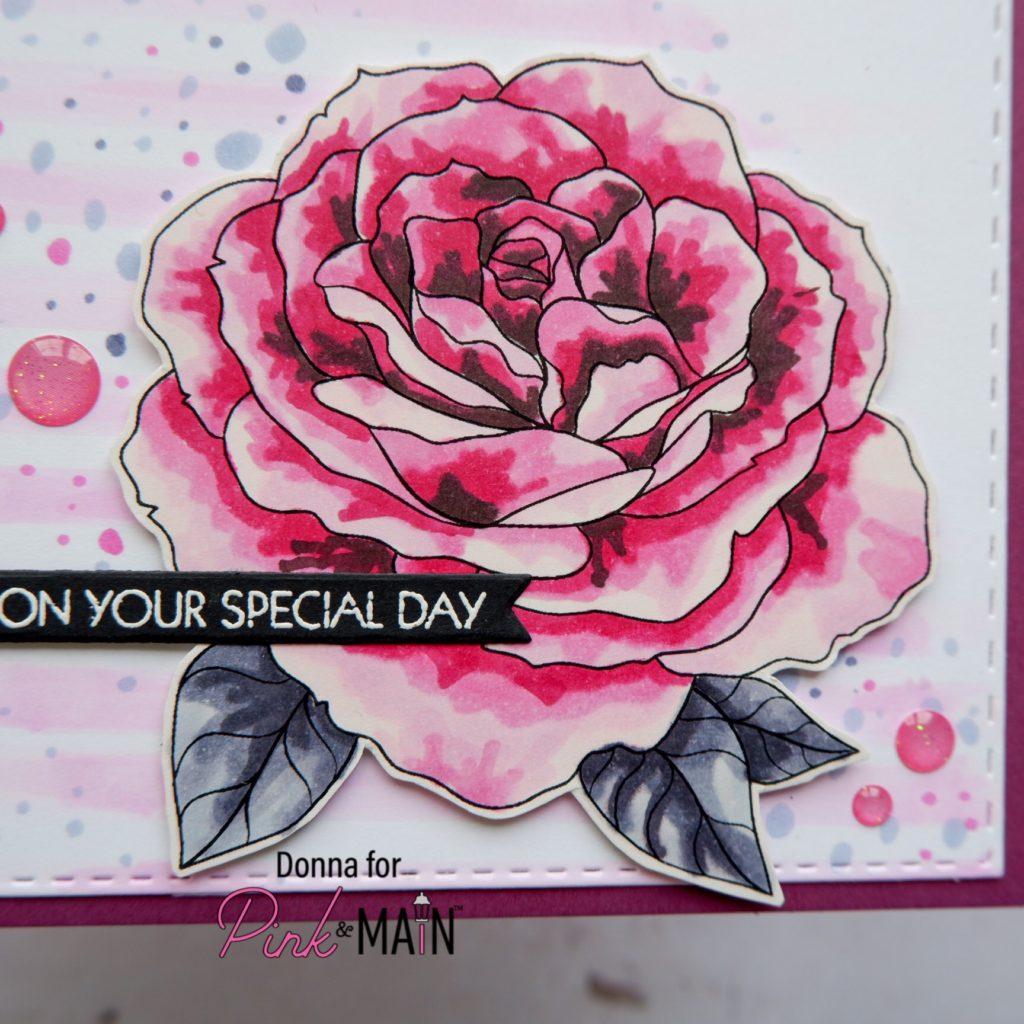 To make the background, I used the lightest shades of Copics and my ruler to draw some lines. I then 'scribbled' over the lines, and off the ends to give them a more organic look. I used two of the blue violets that I'd used to colour the leaves, and one of the pinks to draw some dots, maintaining the flow from top left to bottom right that I'd started with the lines. I cut the panel using the largest die from Pink and Main's Stitched rectangles 2 set. I added some glitter enamel dots from the All Occasion dot collection. I kept the flow of the card going with these too. Check out the glitter in the dots in the picture below! A happy accident. I usually struggle to capture sparkle.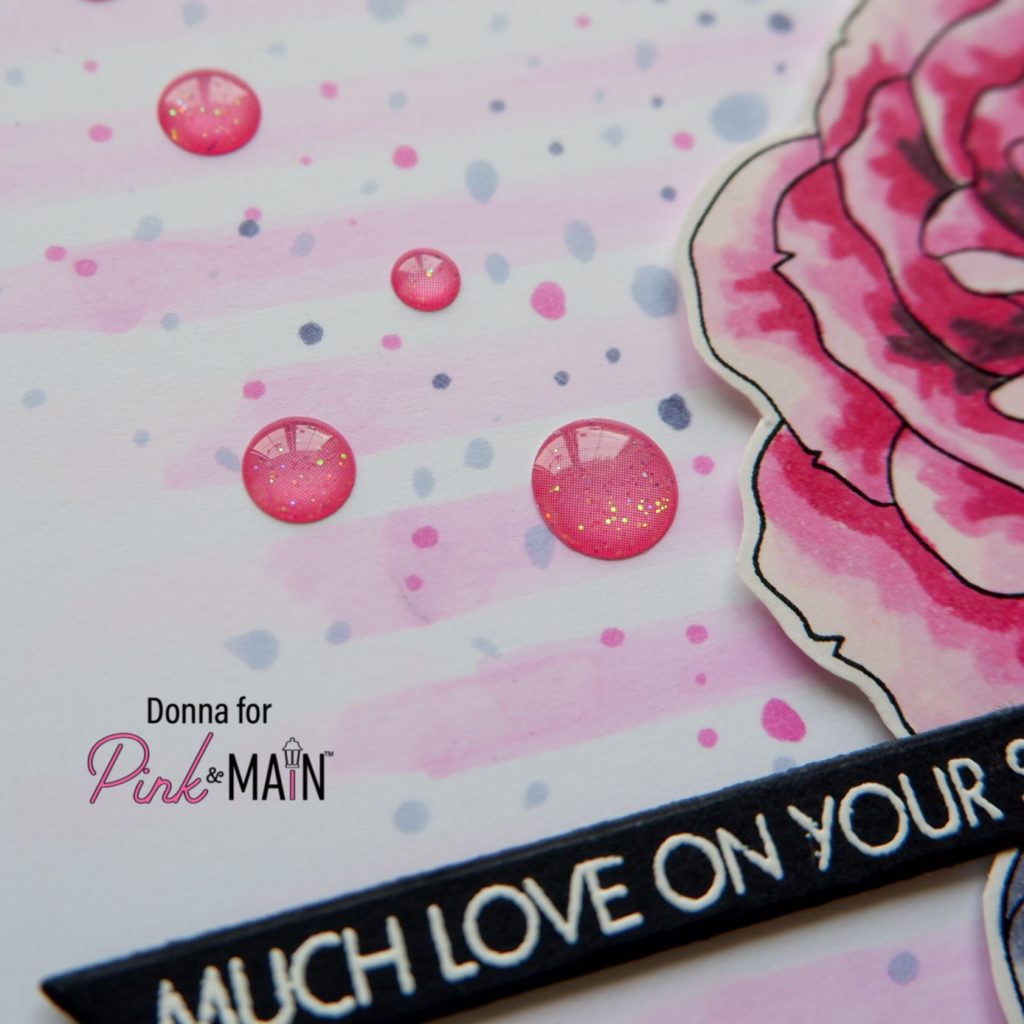 Finally, the sentiment comes from the Special Day Stamp set. I love this stamp set, and the matching Sentiment Strip Dies that go with them. They are my go-to for sentiments. Those of you who have been following my posts on this blog for years won't need to be told that!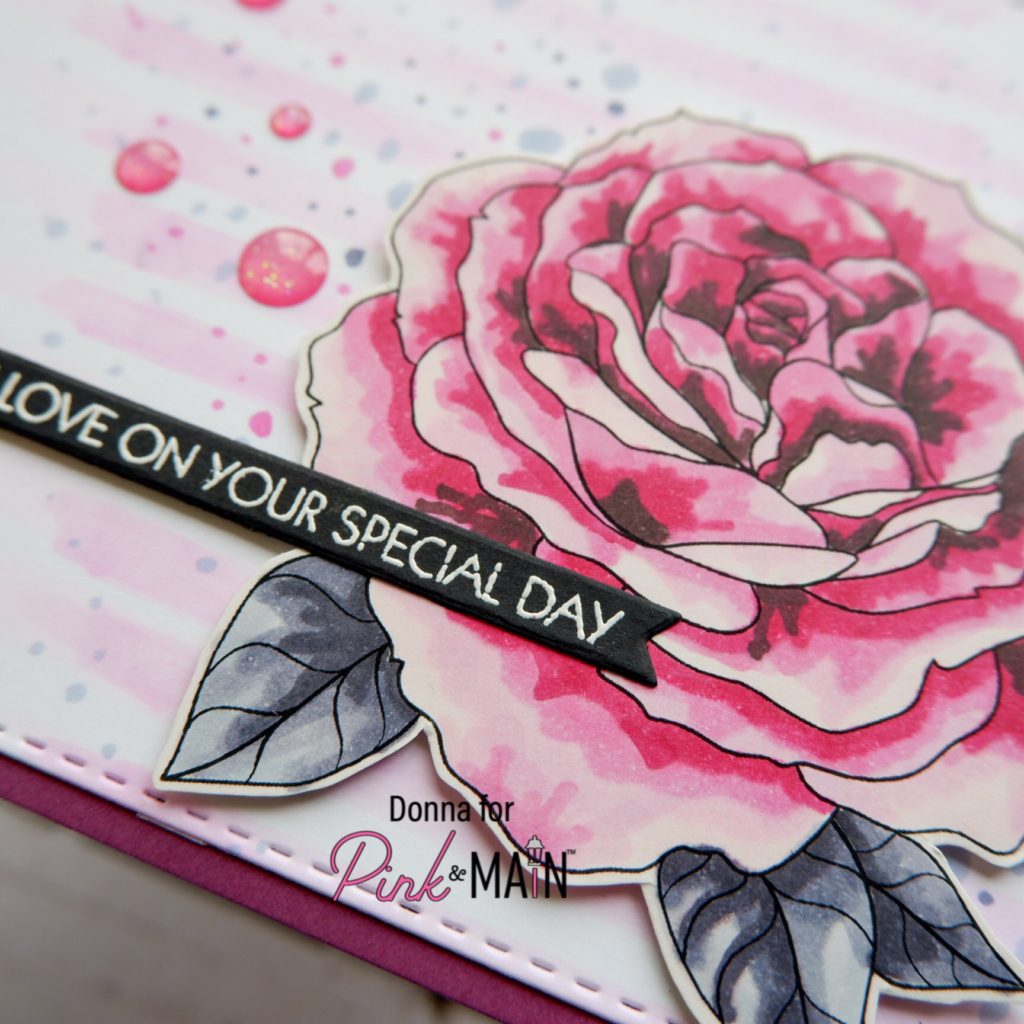 That's all for today, my friends. I hope that you're inspired to give this technique a go. This rose stamp is so much fun to colour, however you choose to do it! If you're interested in seeing more cards, especially more flowers, feel free to visit my Instagram feed. Not all of my play makes it to my blog!
Until next time, may your days be full of flowers.
Blessings,
These are the supplies I used. You can click on the link to shop. Where available, I have used affiliate links, which means that I will receive a small commission at no cost to you. I've tried to link to companies in different countries, so you can save on postage costs. Thank you so much for your support.

Pink and Main Sentiment Strip Dies
Shop at:
P&M

Pink and Main Stitched Rectangles 2
Shop at:
P&M

Copic Markers
Shop at:
O | SSS

Pink and Main Special Day Stamp Set
Shop at:
P&M | SSS

Pink and Main All Occasion Glitter Enamel Dots
Shop at:
P&M | SSS

Pink and Main Roses stamp
Shop at:
P&M | SSS

Pink and Main Roses dies
Shop at:
P&M | SSS