Hello friends. It's Donna here, sitting out on my front verandah enjoying a sunny day before the cold sets in again here in southern Australia. I have a pair of cards for you today that are made from one panel. These would be so good to send to a friend that you haven't seen for a while.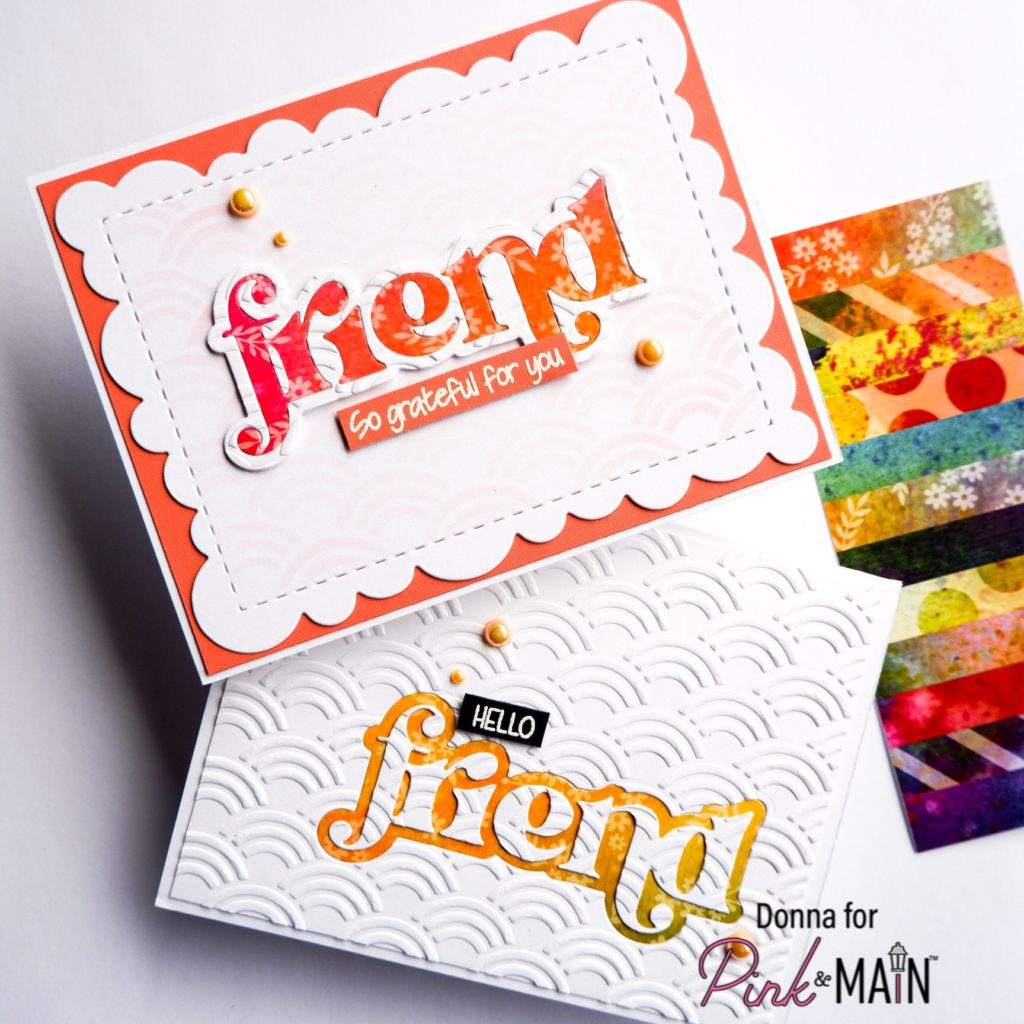 To make a panel with both die cutting and dry embossing, it's important to get the order correct. If you emboss first with your embossing folder, the die cutting will flatten your panel. So, for this panel, I first cut the word "friend", from the beautiful Rainbow Friend dies and it's layering mat from a piece of card. Then, carefully keeping everything together, I then laid this piece into Pink and Main's  Rainbow embossing folder and ran it through my die cutting machine again, adjusting the sandwich for folders.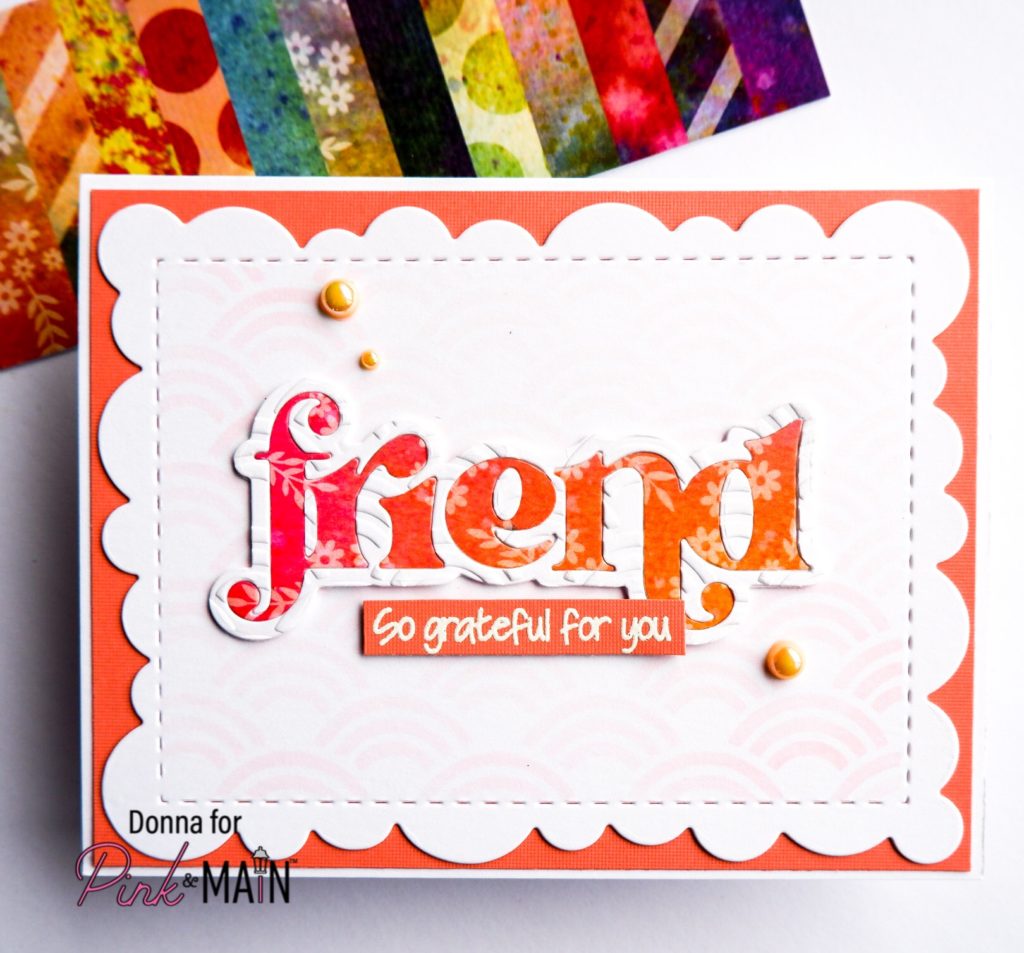 The Watercolor Rainbow Paper pack from Pink and Main has lots of swirling colours ranging from pastels to brights. I chose a couple of the more subdued colours to pair with my cards today. For the first card above I cut the background mat of 'friend' only from some white card to use as a base, and the word friend from one of the papers. I then glued the frame of embossed border to the background mat, and inserted the letters like a jigsaw. I then treated this as one element. The secondary sentiment, 'so grateful for you' comes from the Oh Nuts stamp set, and I heat embossed this in white on matching paper, which I also used for the background. final, I made a middle panel by cutting some white card using the Diagonal Cover Die border potion, and then masking and ink blending some rainbows from the Rainbow fun stencil.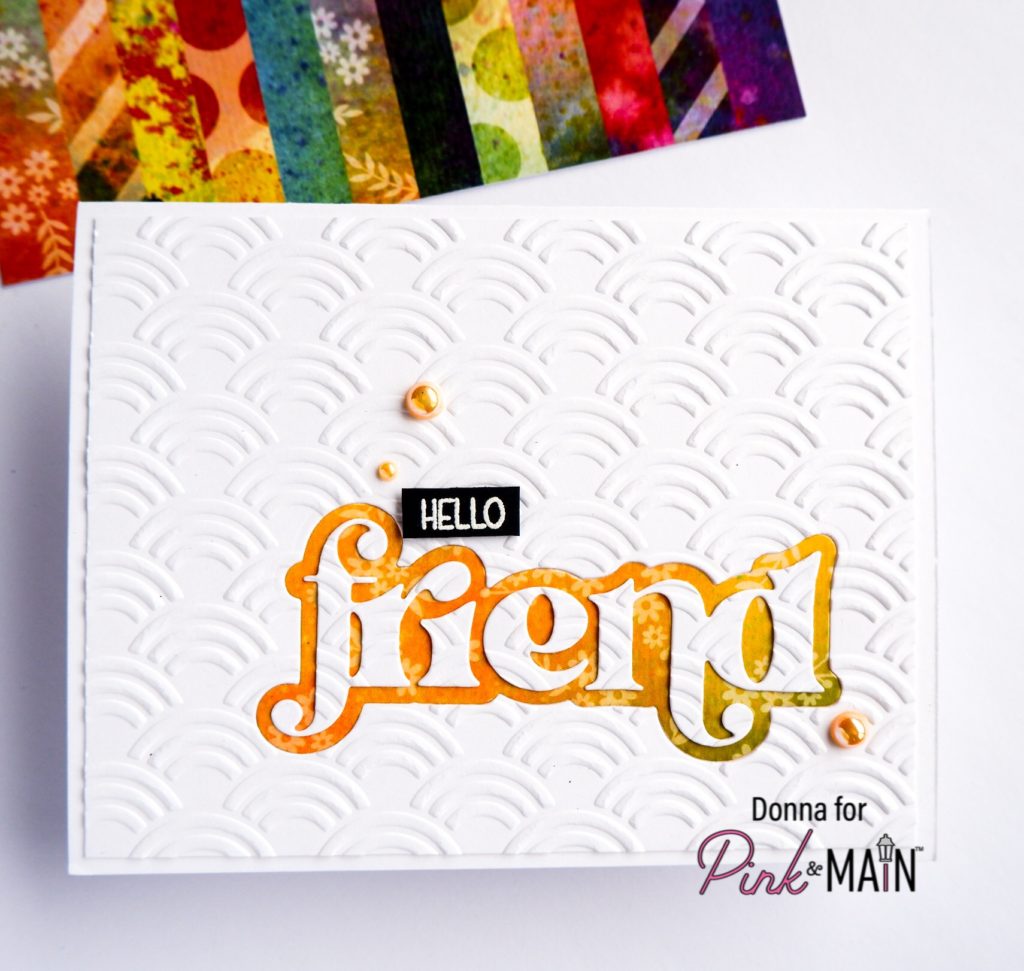 The second card uses the remaining parts of the embossed panel – the letters and the background, I put a sheet of the Watercolor Rainbow Paper pack at the back to peek through, and added the word hello from and older (but one of my all time favourite) Pink and Main stamp sets called Sunny Greetings, again heat embossed in white. The finishing touches on both cards were some Pearls from the Rainbow Pearls Set 2.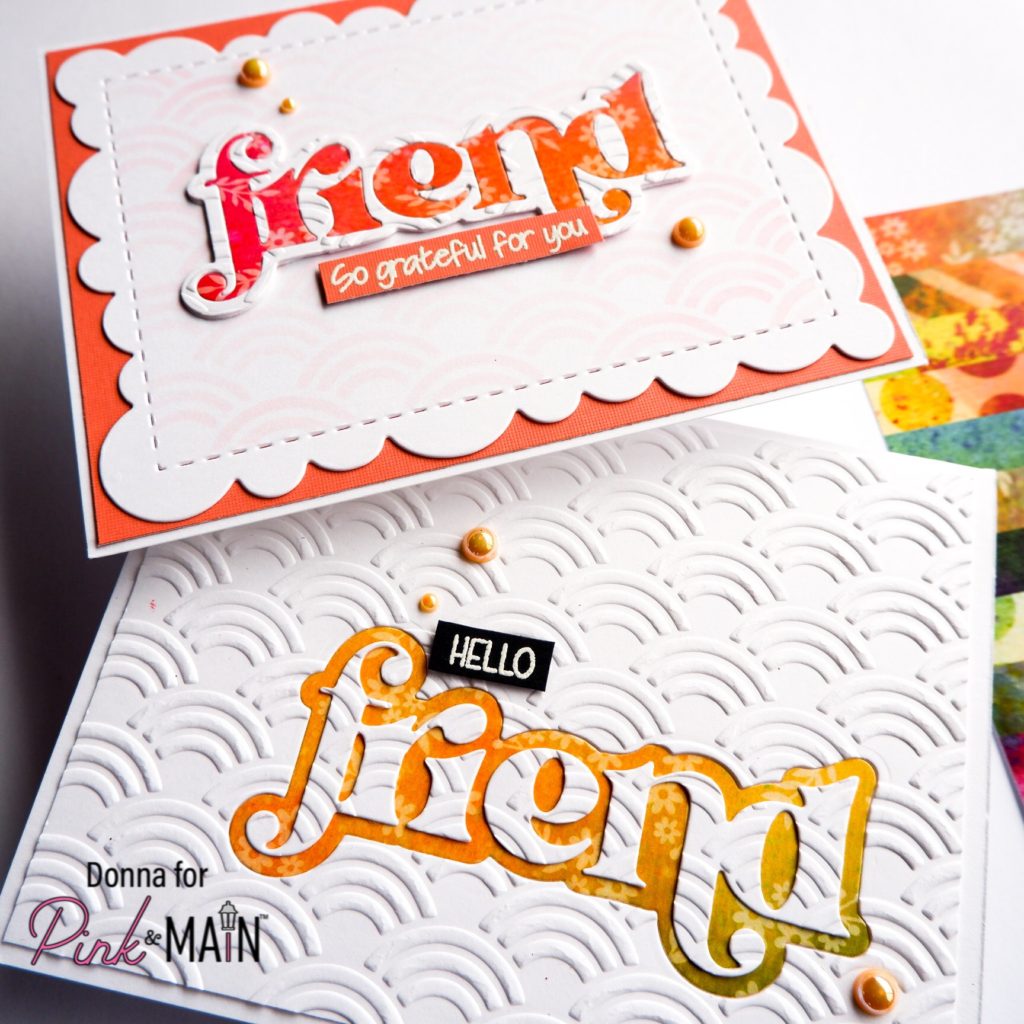 That's all for today. I hope you have been inspired to mix embossing with die cutting. The results are really fun!
Until next time,
Blessings,

My Sweet Petunia MISTI
Shop at:
SBC | SSS

Versamark Ink
Shop at:
SBC | SSS

Pink and Main Sunny Greetings stamp
Shop at:
P&M

Pink and Main Rainbow Fun Stencil
Shop at:
P&M | SSS

Pink and Main Rainbow Pearls set 2
Shop at:
P&M

Pink and Main Diagonal Cover Dies
Shop at:
P&M | SSS

Pink and Main Rainbow friends die
Shop at:
SBC | SSS

Pink and Main Rainbow Embossing Folder
Shop at:
P&M | SSS

Pink and Main Watercolor Rainbow Paper Pack
Shop at:
P&M | SSS

Brutus Monroe Alabaster ultra Fine white embossing powder
Shop at:
SSS