Hello friends. It's Donna here, in the land of no Christmas snowflakes! I'm getting ready for a summer Christmas here in Australia, but I still can't go past snowflake cards. They make me so happy. I have a shaped card for you today.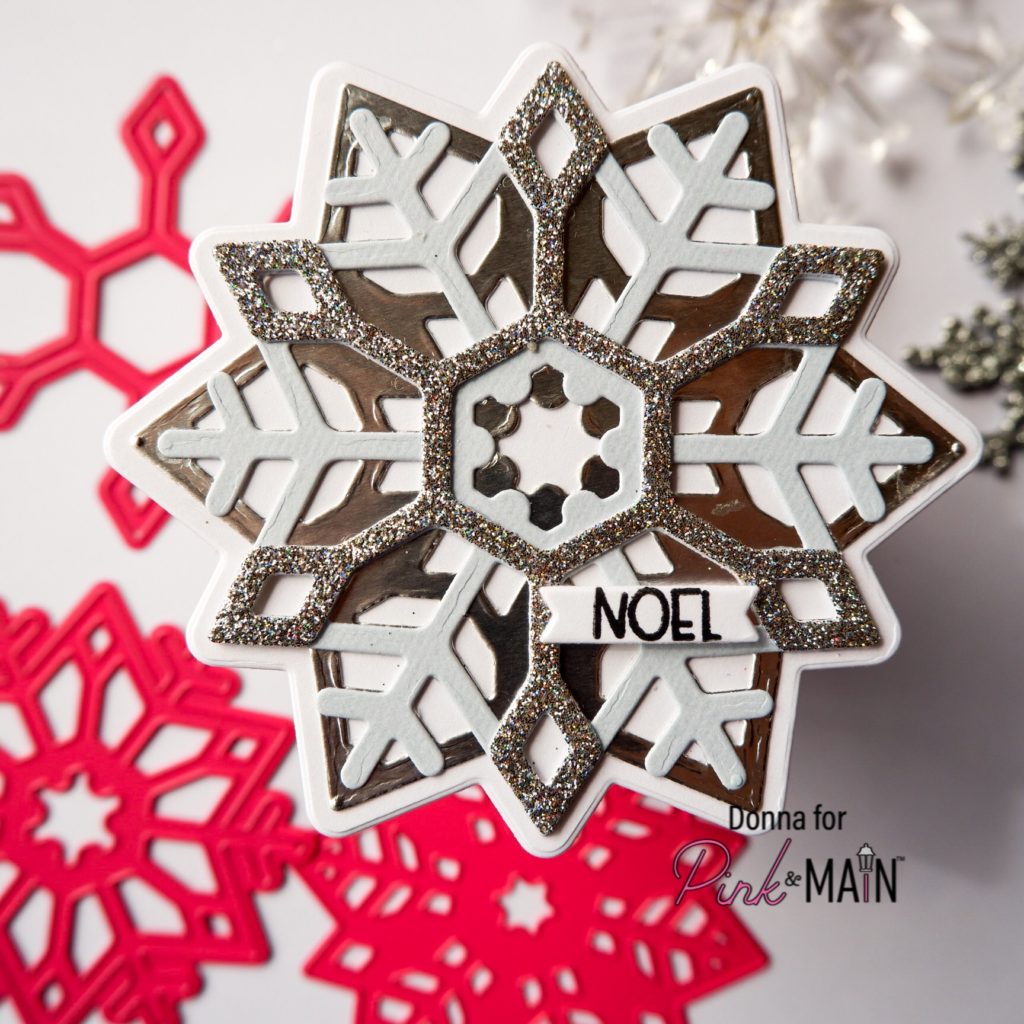 This card was made using the Stacked Snowflakes die from Pink and Main. This is a four layer die which makes gorgeous interesting snowflakes. I cut two of the plain back layer from Neenah Solar White 110lb card to be my base. I scored one of these stars about one cm from the top of the star, and used a mixture of glue and double sided tape to hold the parts together. This scoring gives the card a neat and tidy opening.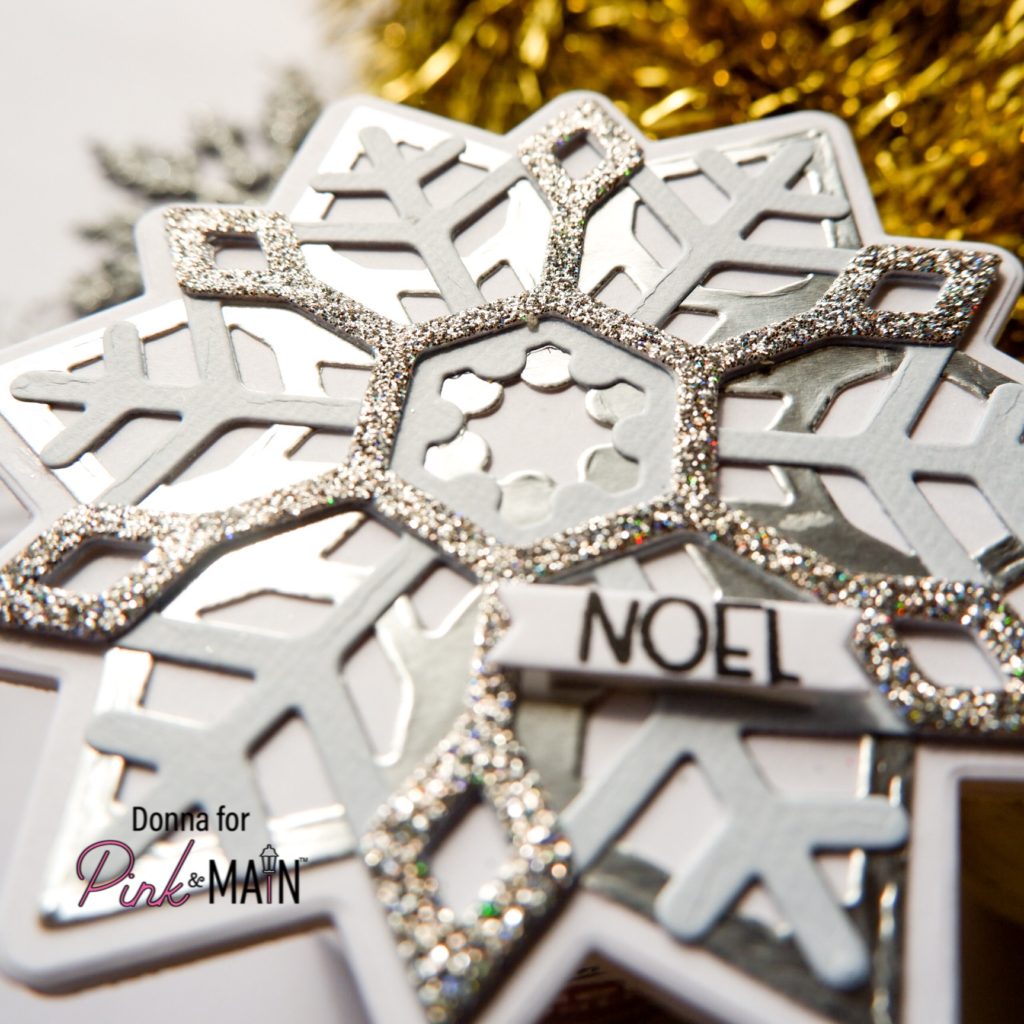 Next, I cut the three top layers. Layer one was cut from Pink and Main's Silver foil cardstock. The next layer was some pale grey card that I had in my stash. And for the glitzy top layer, I made my own paper very simply using a layer of Adhesive sheet, and some Silver Bells Glitter. It's so hard to describe the colour of this glitter. It's silver, but it isn't! You can see in the bokeh areas of the photo above how different colours shine through, even though it reads as silver overall.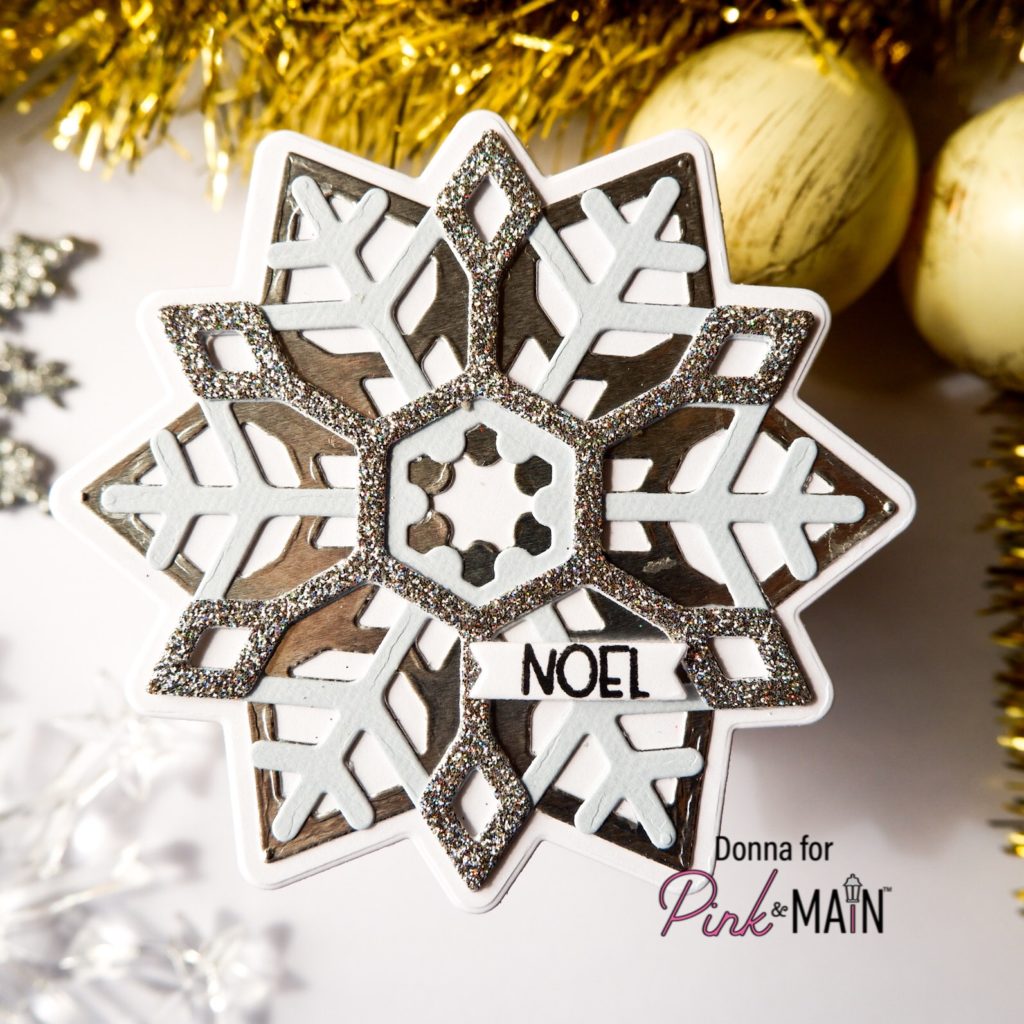 Finally, The greeting comes from a stamp set called Winter Snow Globe Scenes. This is a really fun stamp set with lots and lots of images and sentiments, and one little NOEL, which is what I used. It's the smallest stamp in the whole set! I cut it out with these Sentiment Strip Dies.
If you enjoy shaped cards, this is a wonderful way to quickly and easily make one, using as many or as few of the layers as you choose! Until next time, stay safe, and enjoy whatever weather you have, sunny or snowy!
Blessings
Donna
These are the supplies I used. You can click on the link to shop. Where available, I have used affiliate links, which means that I will receive a small commission at no cost to you. I've tried to link to companies in different countries, so you can save on postage costs. Thank you so much for your support.

Pink and Main sentiment strip dies
Shop at:
P&M

Pink and Main Stacked Snowflake dies
Shop at:
P&M | SSS

Pink and Main WInter Snow Globe scene
Shop at:
P&M | SSS

Pink and Main Adhesive sheets 8 1/2 x 11
Shop at:
P&M

Pink and Main Silver Bells Glitter
Shop at:
P&M | SSS

Pink and Main Foil Cardstock gold and silver
Shop at:
P&M | SSS

Neenah Solar White 110lb card
Shop at:
SSS