Hello friends. Donna here, fresh back from a four day hike outdoors. I was hiking in southern Australia, near my home, so there was definitely no sign of snow! But, I've got plenty of snowflakes for you today! This card is one that is almost zen in its creation because the colouring is so gentle and repetitive.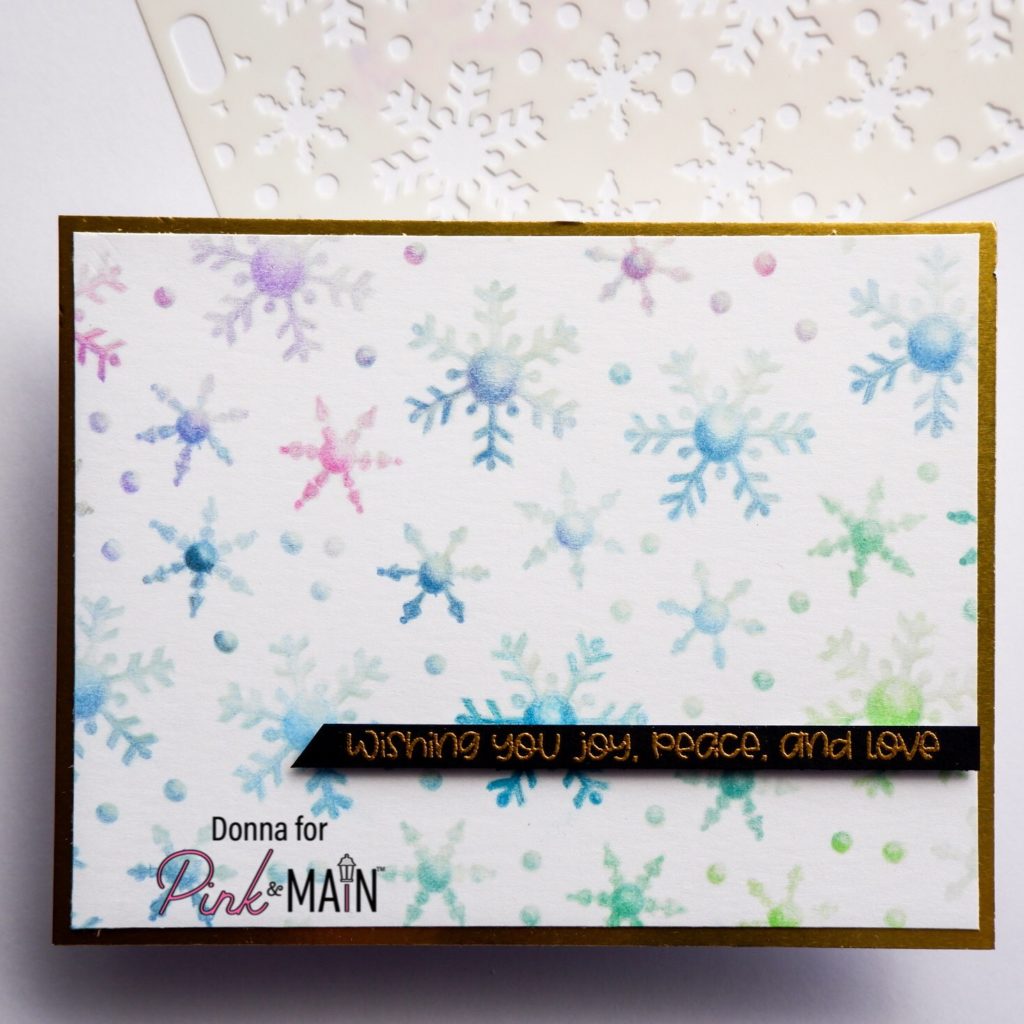 To begin with I used the Blizzard Stencil from Pink and Main, and blended some ink through it using the mini ergonomic blending brush and some pale neutral ink. I then grabbed out a handful of coloured pencils in a few shades, covering about half of the colour wheel( Mostly the cool colours), and very lightly coloured over each snowflake and circle. I used a super light hand, and even these pale snowflakes took about four layers to build the colour, with the pencil hardly touching the paper. Here's a picture that I took half way through the process.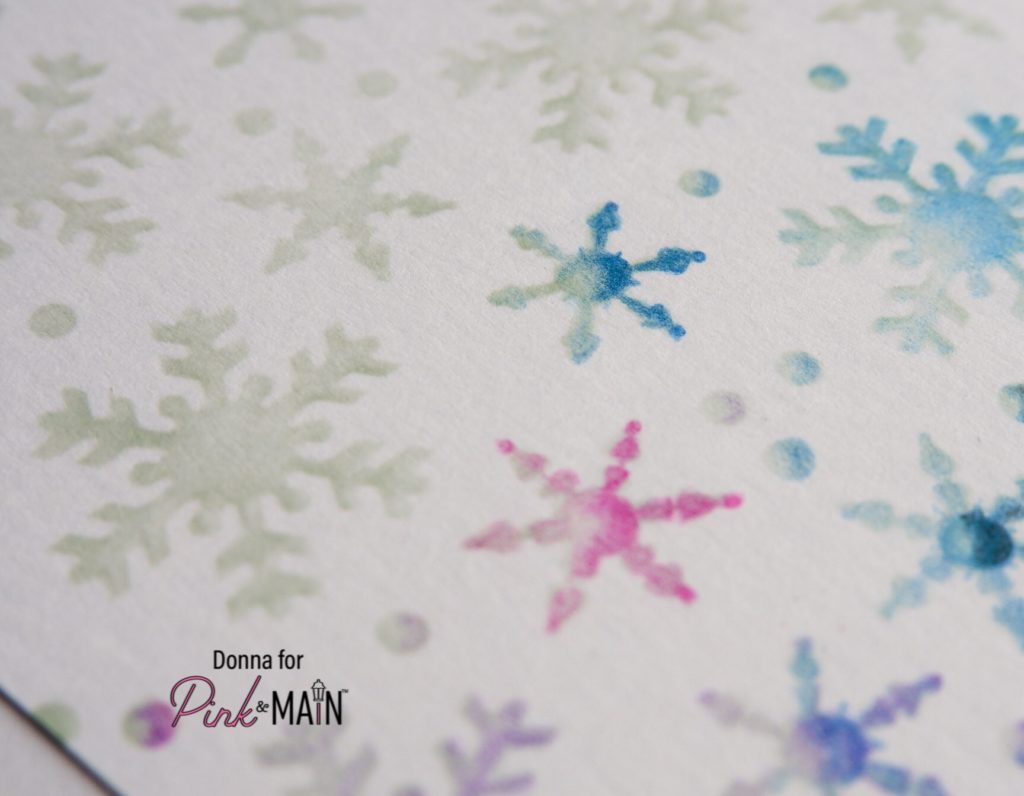 I coloured more layers at the bottom left of each flake, and left some of the upper right free from colour. Once the panel was all coloured, (over several days), I cut it to just smaller than a standard card size. I used some gold foil cardstock to be the back layer and provide a frame for my panel.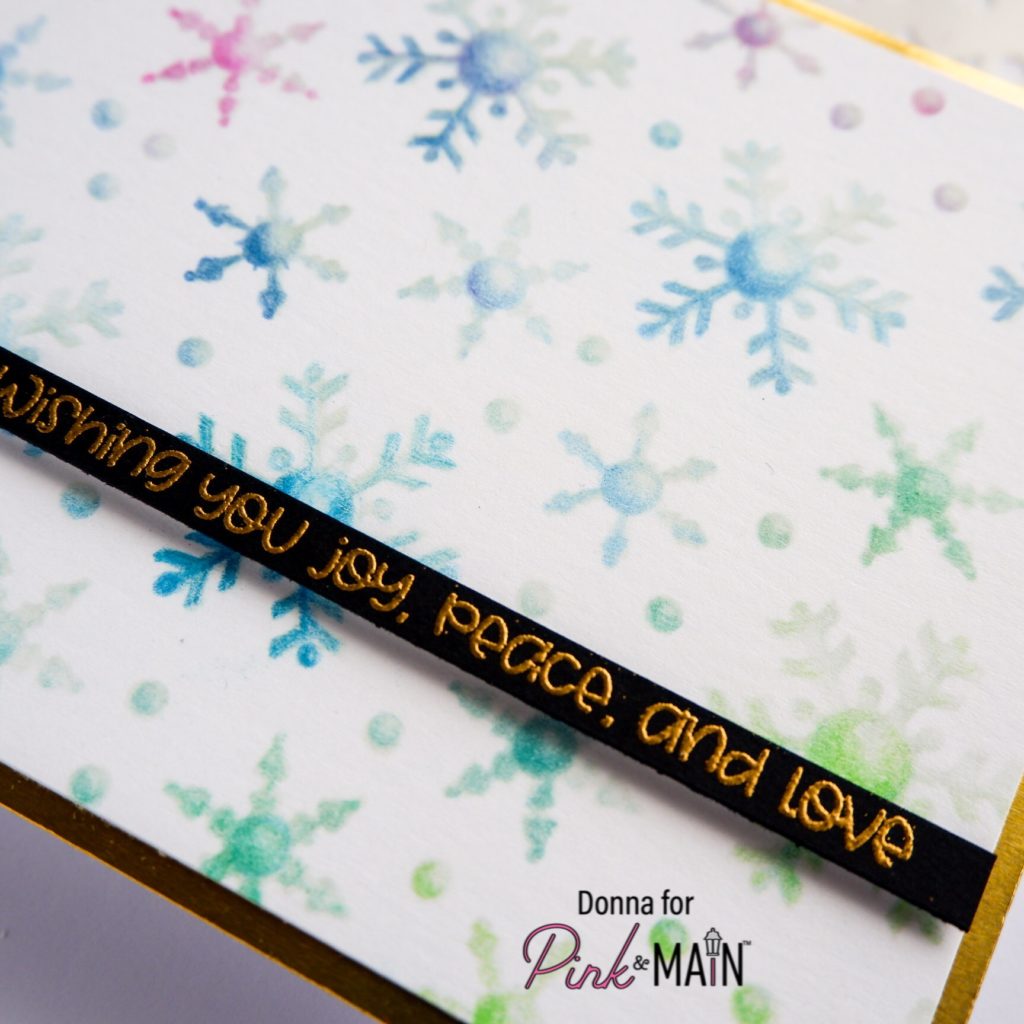 The sentiment is embossed in gold to match the foil, and the sentiment comes from the Polly and Pete Wreath stamp set. The full sentiment reads "Wishing you joy, peace and love this holiday season." I masked off the second half of the sentiment so that I could have a thin sentiment strip. ( I didn't want to cover my colouring!)
That's all for today. I'll be back soon! Until then, may your have all the joy peace and love that you can fill your days with!
Blessings,

Pink and Main mini Ergonomic Blender Brush
Shop at:
P&M | SSS

Polychromos pencils
Shop at:
O | SSS

Distress Ink Antique Linen
Shop at:
SBC | SSS

Pink and Main Blizzard Stencil
Shop at:
P&M | SSS

Pink and Main Foil Cardstock gold and silver
Shop at:
P&M | SSS