Hello Pink and Main friends. It's Donna here, with a Christmas card. I seem to be in a different hemisphere every Christmas, mixing up cold Christmas with Christmas at the beach! One thing that doesn't change is the night stars. Wherever we are, we can look up and see the stars and remember the star that led the wise men to Bethlehem.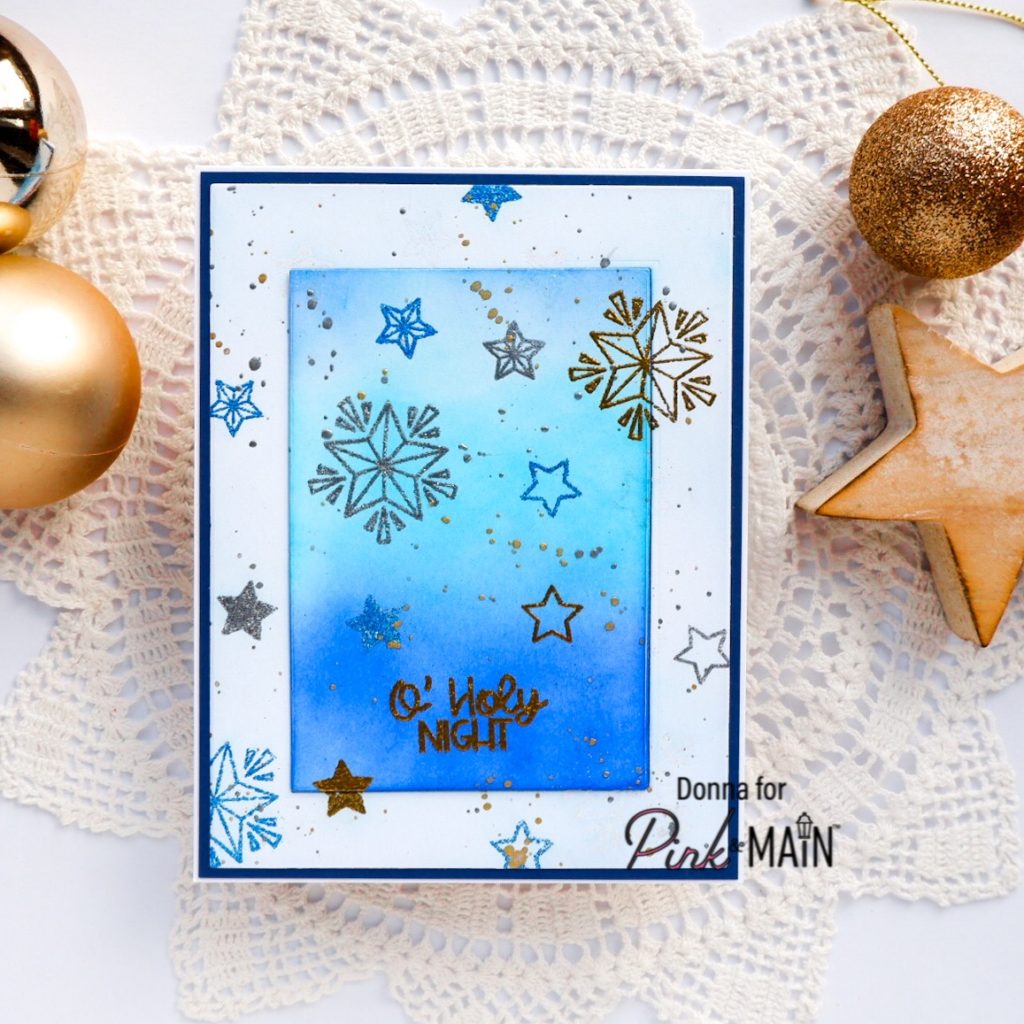 To make this card, I started with a piece of white card. I used two  Layered Rectangle Dies to cut a rectangle within a rectangle. I then used different blue inks to blend an ombre night sky on just the inner shape – Blueprint Sketch, Broken China and Tumbled Glass. I then put the two rectangles – the blue one and the white frame back together in my MISTI stamping platform.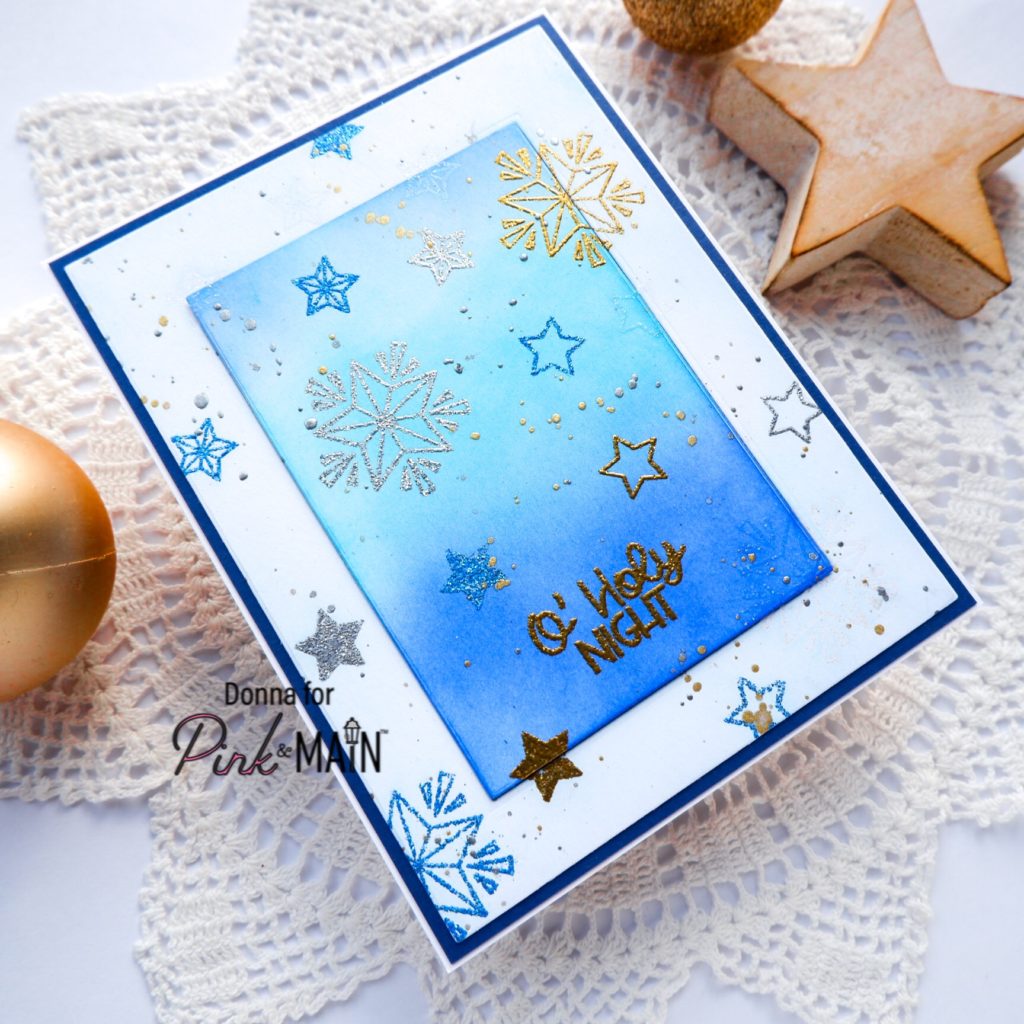 Then, I've used the stars from the Nativity Stamp Set from Pink and Main. There are several stars on this set, all slightly different. I stamped a few with clear embossing ink, then heat embossed them, before stamping a few more and repeating the embossing with a different colour. I used Pink and Main powders in the colours Golden Palace ( I used this for the sentiment from the same Nativity Stamp Set too), Sapphire – blue, and Sterling – silver.
Once I was done with the embossing, I spattered some gold and silver paint all over the card for more stars in the distance. I used a piece of Barbershop blue card stock for the background, and then glued my frame down flat before popping up the central panel.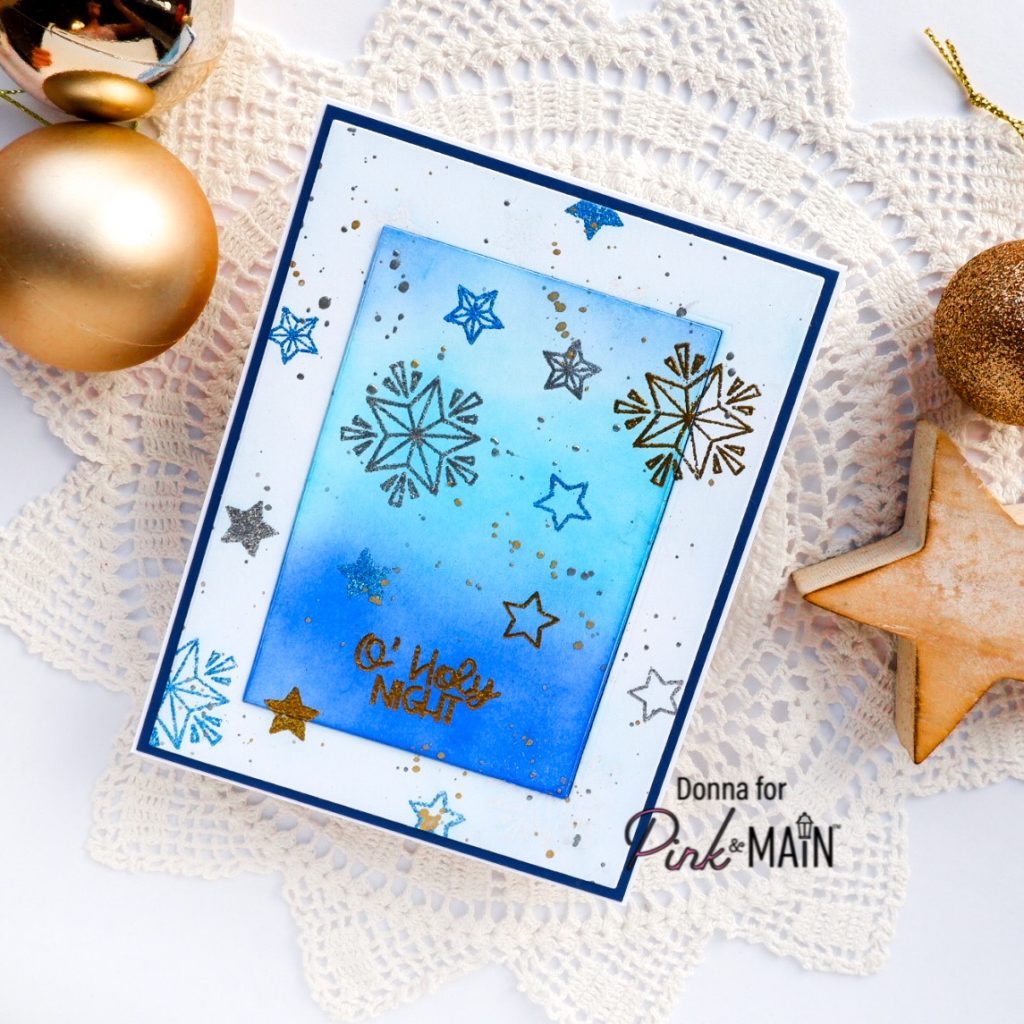 This was a hard card to photograph. There's a lot of sparkle there that was hard to capture, but I've done my best! Until next time, may the stars shine brightly for you.
Blessings,
These are the supplies I used. You can click on the link to shop. Where available, I have used affiliate links, which means that I will receive a small commission at no cost to you. I've tried to link to companies in different countries, so you can save on postage costs. Thank you so much for your support.

My Sweet Petunia MISTI
Shop at:
SBC | SSS

Pink and Main Layered Rectangle A2 Dies
Shop at:
P&M | SBC

Pink and Main Nativity Stamp set
Shop at:
P&M | SBC | SSS

Distress Ink Broken China
Shop at:
SBC | SSS

Distress Ink Blueprint Sketch
Shop at:
SBC | SSS

Distress Ink Tumbled Glass
Shop at:
SBC | SSS

Pink and Main Embossing and Watermark ink
Shop at:
P&M | SBC

Pink and Main Sterling Embossing powder
Shop at:
P&M | SBC

Pink and Main Sapphire Embossing Powder
Shop at:
P&M | SBC

Pink and Main Golden Palace Embossing Powder
Shop at:
P&M | SBC