Hello crafty friends. I'm back with all the hearts today, and all the pastel colours. This friendship card is quick and easy to make, and has lots of sparkly bits!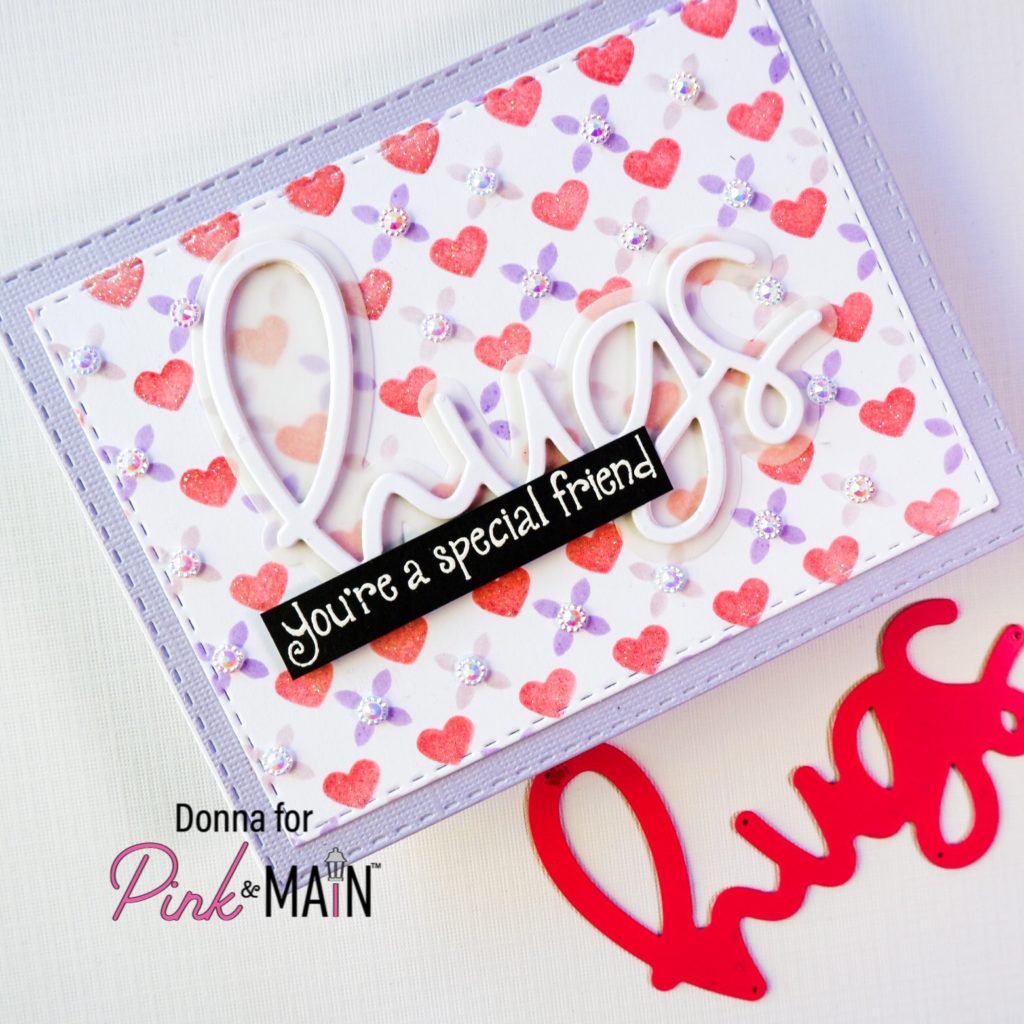 I started with the Fun Lattice Stencil Set from Pink and Main. There are four different layers you can use on this set, so it's really versatile, but I just used two. First, I took the little star stencil and ink blended over it in a mid purple ink. I then moved the stencil across and ink blended again, this time in a lighter purple. I then moved to the heart die, and added this too. I used pink ink for the hearts, then once this was dry, I stamped through the stencil with watermark ink, before sprinkling over Icicle Embossing Powder (which is clear and sparkly) and heat embossing it to give a sparkle to the hearts.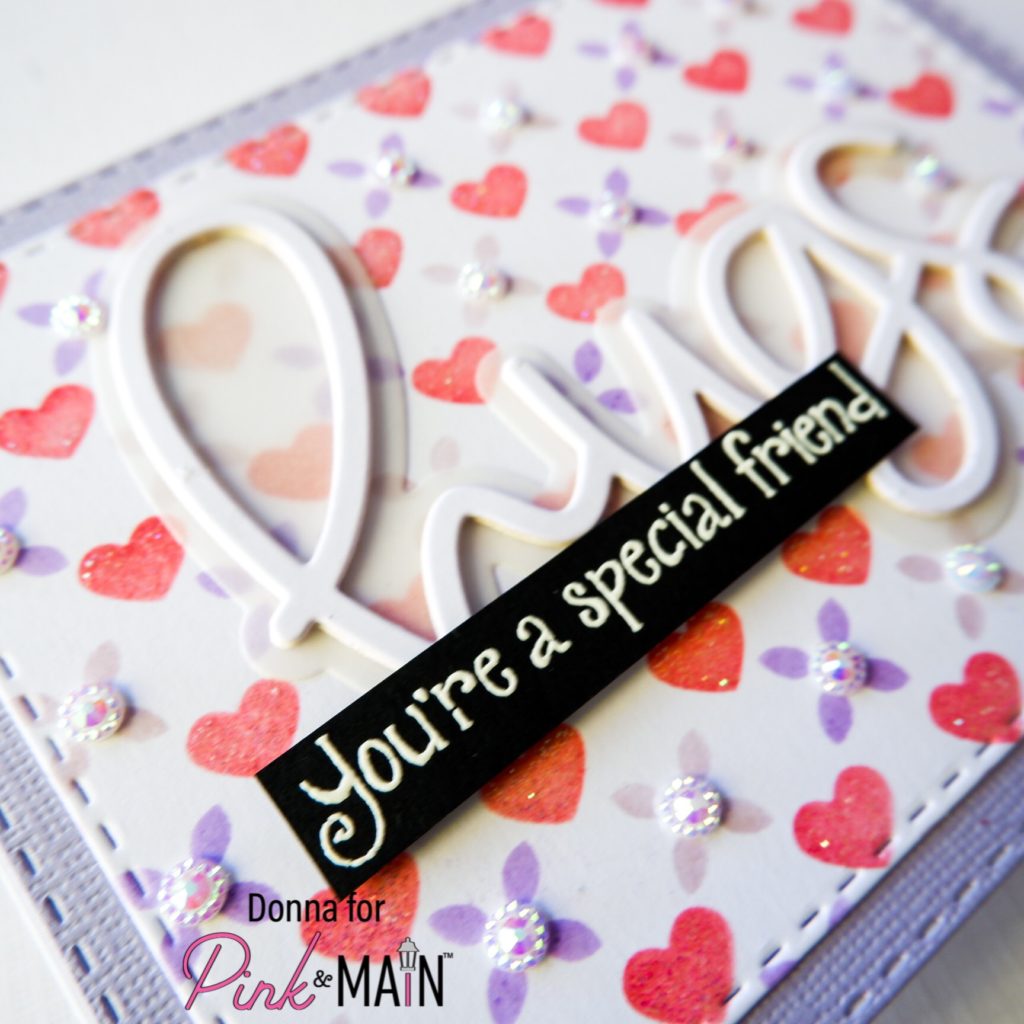 I cut this panel, and some purple cardstock using this  stitched rectangle die. I then cut the Big Hugs Die four times from white cardstock, and the Big Hugs Background once from Vellum. I stuck three of the 'hugs' together, then stuck them to the top of the vellum with tape. (glue warps the vellum) I also put one 'hugs' under the vellum too, to lift if off the paper and give the pattern underneath a more hazy feel. The secondary sentiment from the Friendship Stamp 3 was stamped an heat embossed in white on black paper.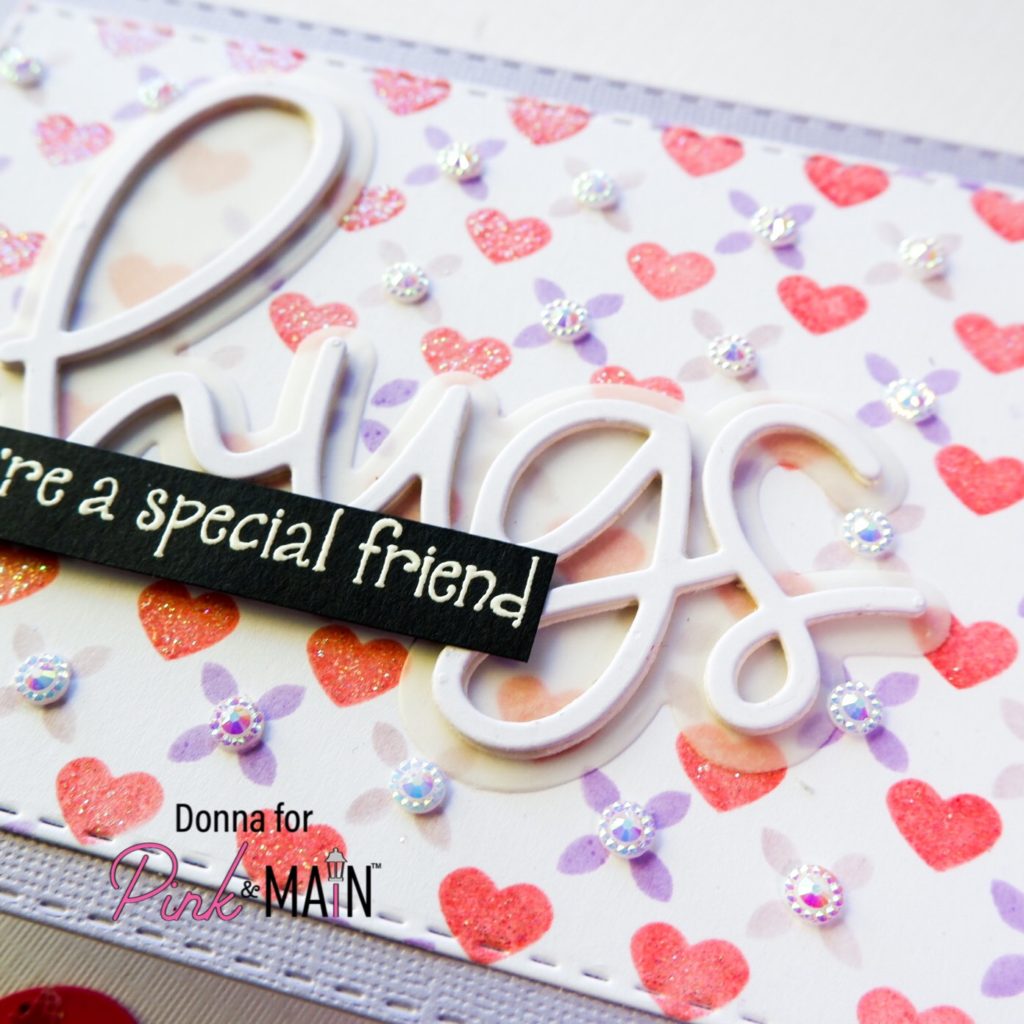 As a final touch, I added Ballroom Gems to the centres of the purple stars, wherever I could squeeze them on! This card has lots of sparkle, lots of dimemsion, and lots of love included.
I look forward to sharing another card with you soon!
Blessings,
Donna
These are the supplies I used. You can click on the link to shop. Where available, I have used affiliate links, which means that I will receive a small commission at no cost to you. I've tried to link to companies in different countries, so you can save on postage costs. Thank you so much for your support.

Pink and Main Stitched Rectangles 1
Shop at:
P&M | SBC

Pink and Main Big Hugs Die
Shop at:
P&M | SBC

PInk and Main Friendship 3 stamp
Shop at:
P&M

Pink and Main Ballroom Gems
Shop at:
P&M | SBC | SSS

Pink and Main Fun Lattice Stencil set
Shop at:
P&M | SBC | SSS

PInk and Main Icicle Embossing Powder
Shop at:
P&M