Hello friends. It's Donna here, enjoying the cooler days and sunshine of winter. I notice that the longer I live in Japan, the more I talk about the weather. It's a big part a of daily life, with diet, decorations and greetings all revolving around the weather. It's spreading to my English speaking too, and onto this blog! Today's card is a soft subtle holly background. Originally I had cut the circle to be a tag, but I didn't like the way it turned out, so I moved it to a card, and I'm much happier.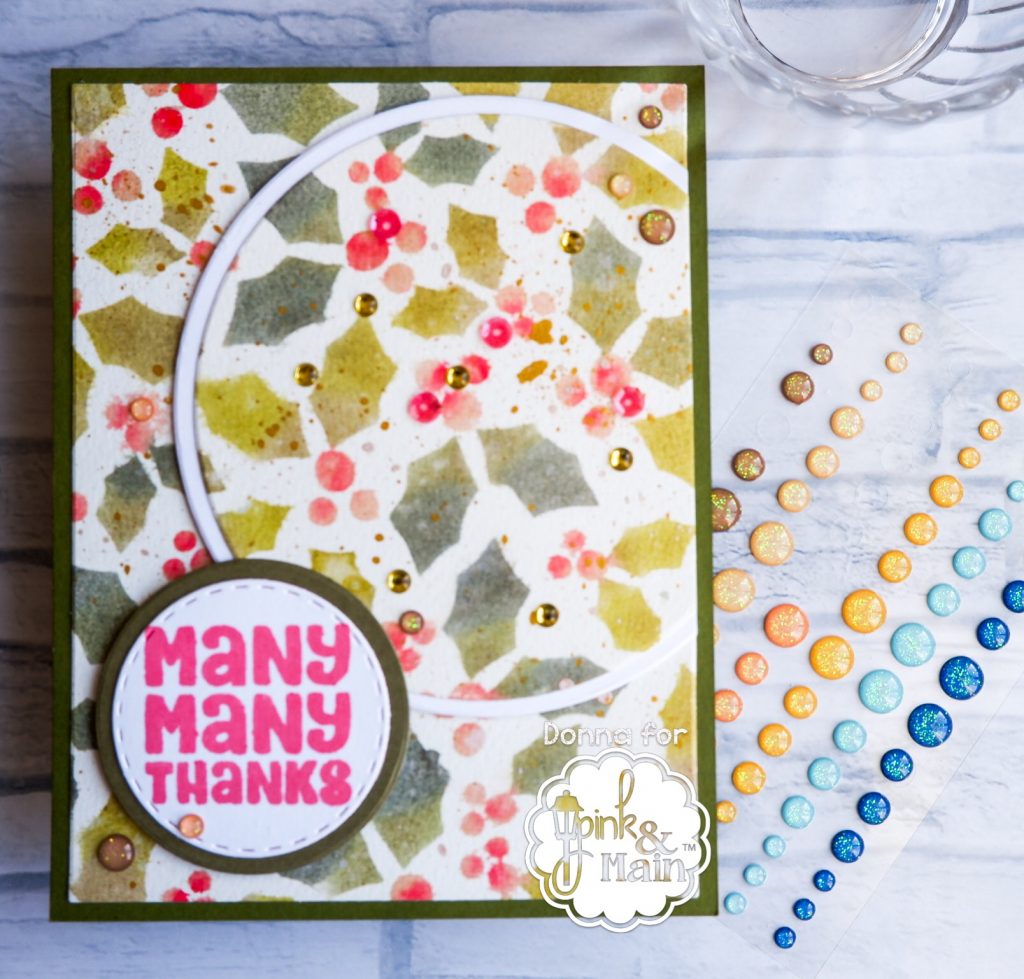 To make this card, I first used the Holly Layering Stencil from Pink and Main to create a panel on watercolour paper. I used the Mini Ergonomic Blender brush to blend Distress Oxides in Iced Spruce, Peeled Paint, Antique Linen, Victorian Velvet and Candied Apple onto the two different panels that make up this stencil set. Next, I spattered the whole panel with water to soften the edges, quickly drying it with some paper towel. I then spattered the panel with perfect pearls for shimmer, as well as some gold paint.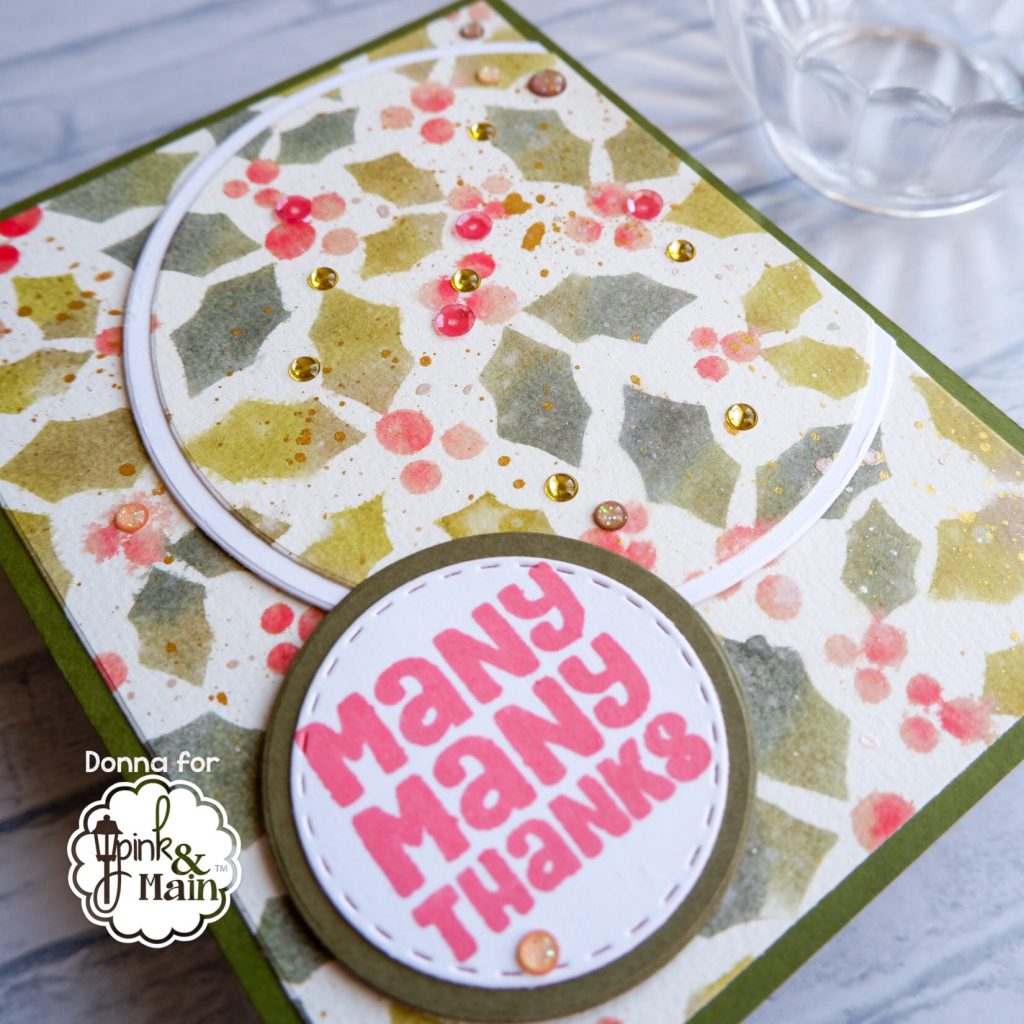 I then cut a circle from this panel using the Layered Circles die, and mounted this onto a slightly larger white circle. The sentiment comes from the Spotlight Sayings stamp set. I stamped it onto some white card, and cut it using the stitched circle in the middle of the Sunburst Slimline Die.
I chose a deep green background for the sentiment and the card base, and as a final touch, I added some sequins as well as enamel dots from the Falling for You Glitter Enamel Dots and also Gold Glossy Dots.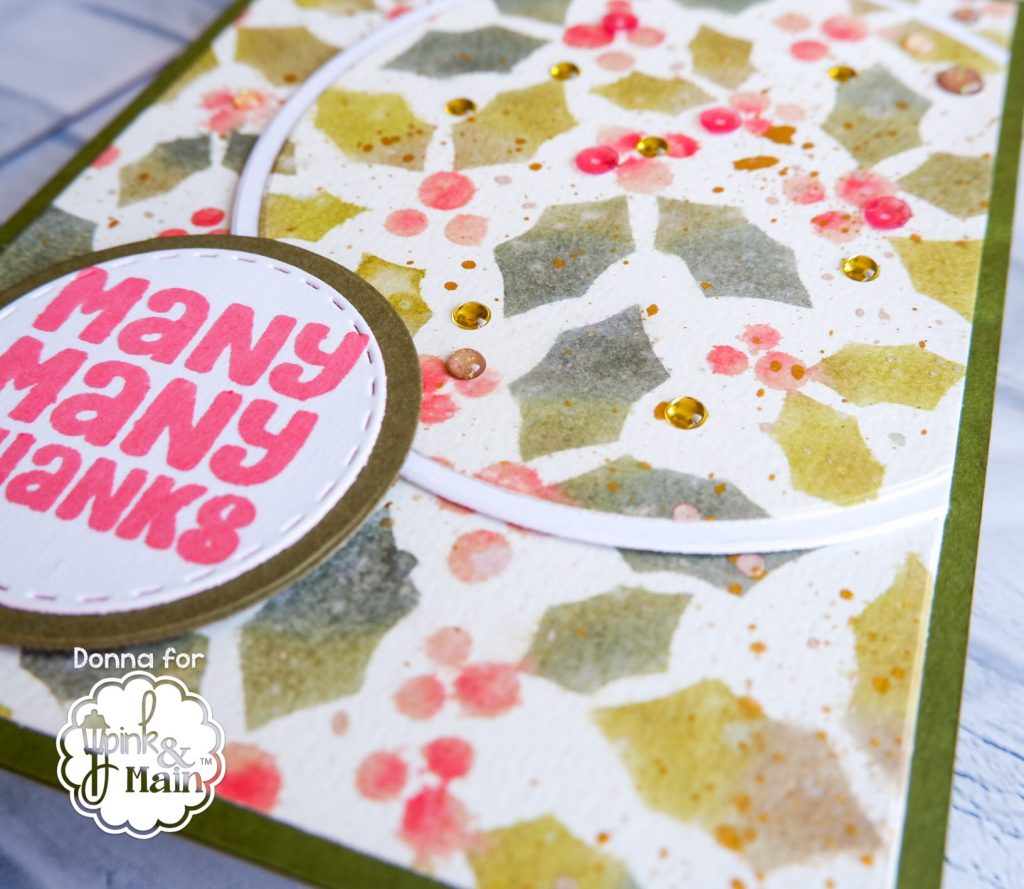 I hope that you have enjoyed this card, and that you are having a peaceful week. Until next time,
Blessings,

Pink and Main Ergonomic Blending Brush
Shop at:
P&M

Pink and Main Stitched Rectangles 2
Shop at:
P&M

Pink and Main Layered Circle Dies
Shop at:
P&M

Pink and Main Layered Rectangle A2 Dies
Shop at:
P&M

Fabriano Artistico extra white watercolour block
Shop at:
B

Pink and Main Falling for You glitter enamel dots
Shop at:
P&M

Pink and Main Gold Glossy dots
Shop at:
P&M

Distress Oxide Candied Apple
Shop at:
SBC

Distress Oxide Victorian Velvet
Shop at:
SBC

Distress Oxide Antique Linen
Shop at:
SBC

Distress Oxide Peeled Paint
Shop at:
SBC

Distress Oxide Iced Spruce
Shop at:
SBC

Pink and Main Spotlight Sayings
Shop at:
P&M

Pink and Main Sunburst Slimline Die
Shop at:
P&M

Pink and Main Holly Layered stencil
Shop at:
P&M