Hello, hello! It's Donna here, making sushi cards in Tokyo! Who would have thought! Certainly not me if you'd asked me a couple of years ago. Living in Japan and being on a design team are both things that I thought were just dreams…
So, here's the card!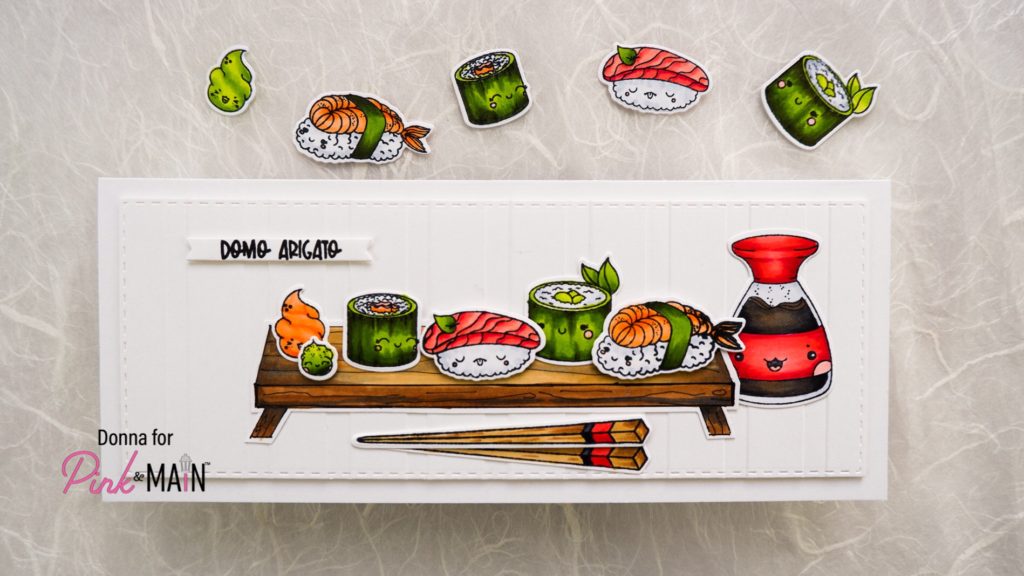 This card uses the Roll With It stamp set from Pink and Main. I also used the matching dies to cut the pieces. Having the dies was such a help with so many pieces. I stamped the images in Memento Tuxedo Black ink and coloured everything with my Copic markers. I have a video of the making process of this card, which includes all the colors and also how I drew the tray.
There is one thing on this card that is not stamped – the table/tray. I'm so proud of myself for drawing this. I really wanted a tray for the sushi to sit on, so I made one myself. I used a pen that was of a similar nib width to the lines on the stamped images so that the table would not stand out too much.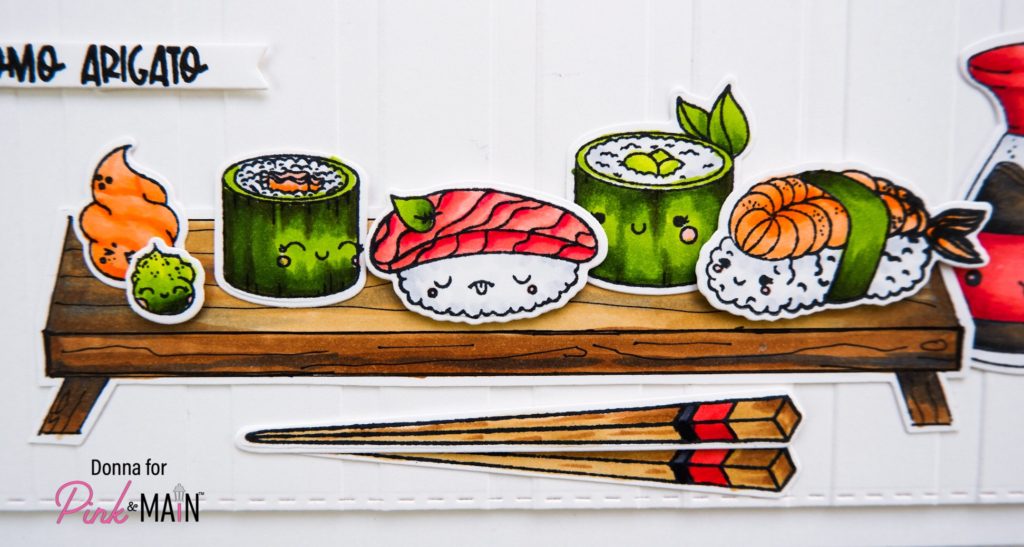 The background was made using a two step process. First, I cut the piece using one of the Stitched Slimline Dies, and then I used the Wide Stripes embossing folder to create the dimension. It's important to do it in this order, or the die cutting machine will flatten all the beautiful stripes. The video above shows how I lined up the embossing folder so that it would be centre on the paper, which is larger than the folder.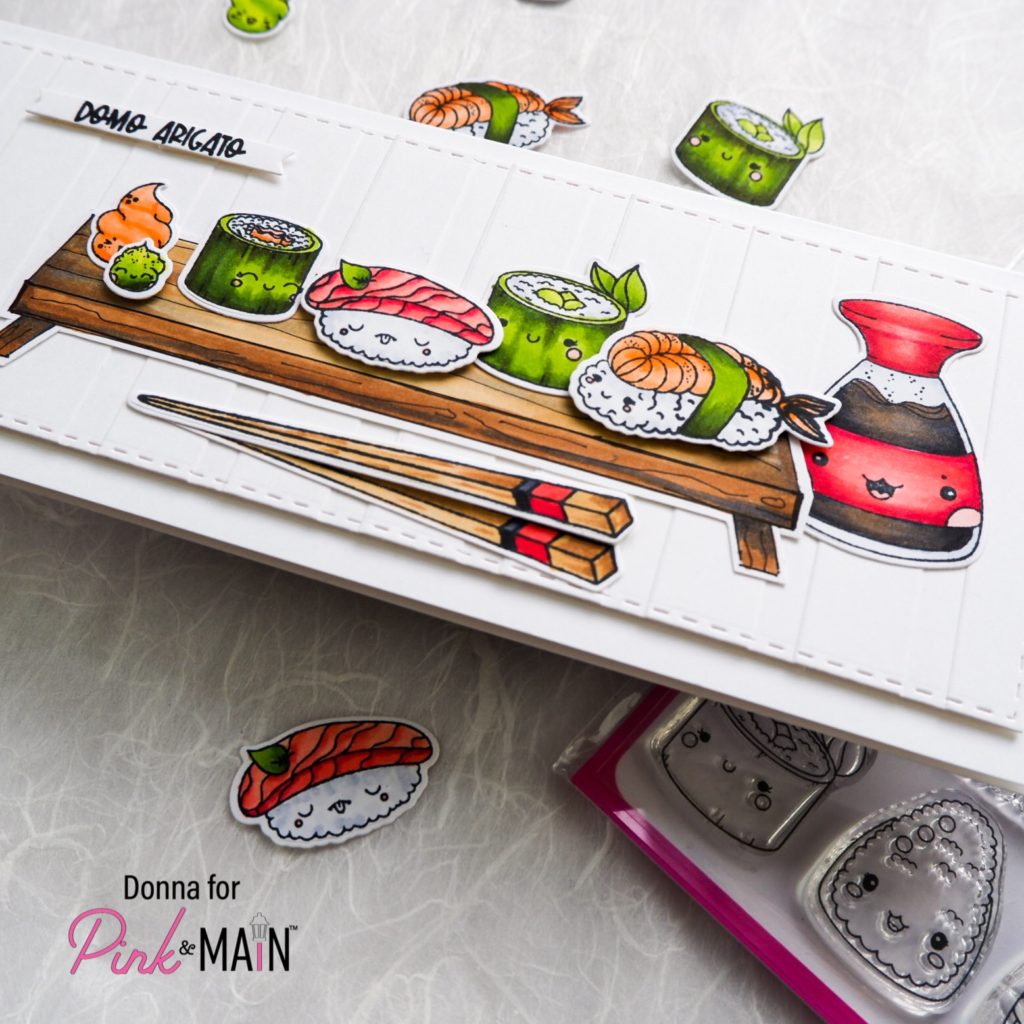 The sentiment means thank you very much. I have spend many hours in classrooms teaching teenagers how to say this properly. Seeing it written in English letters makes me smile. I haven't seen English Japanese for a long time, as these days I'm conducting most of my life outside my home in Japanese, letters and all!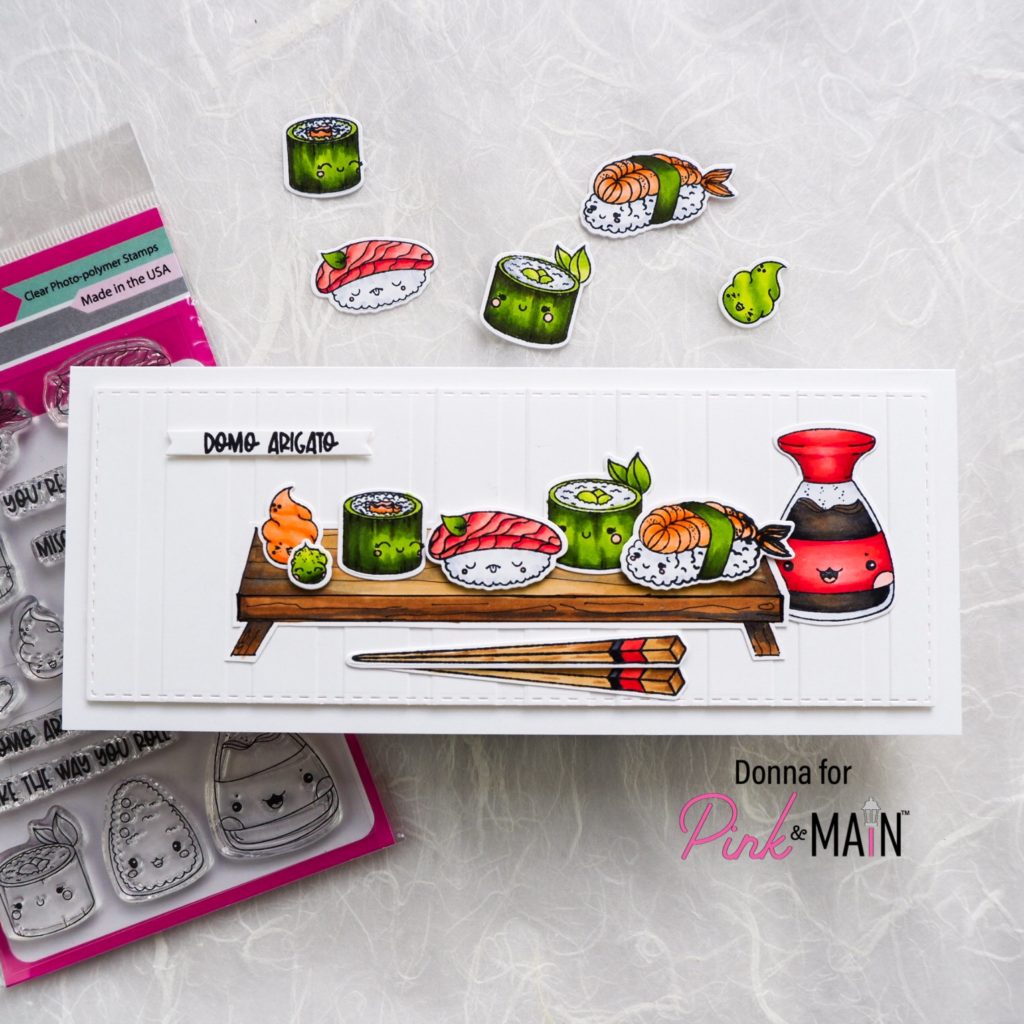 It's great to make a fun card that echoes my life here. I help that you've enjoyed it and that it made you smile. Until next time, stay safe, and どうもありがとう (Domo Aritgato) for spending this time with me!
Blessings

Pink and Main Sentiment Strip Dies
Shop at:
P&M

Pink and Main Stitched Slimline dies
Shop at:
P&M | SSS

WIde Stripes embossing folder
Shop at:
P&M | SSS

Memento Tuxedo Black Ink
Shop at:
SBC | SSS

Pink and main Roll with it stamp set
Shop at:
P&M | SSS

Pink and main Roll with it stamp set
Shop at:
P&M | SSS