Hello friends. It's Donna here, enjoying cherry blossom season here in Japan. We have some beautiful trees just outside our building, and although it's been very windy, the blossom is hanging in there! But I have some different flowers for you today!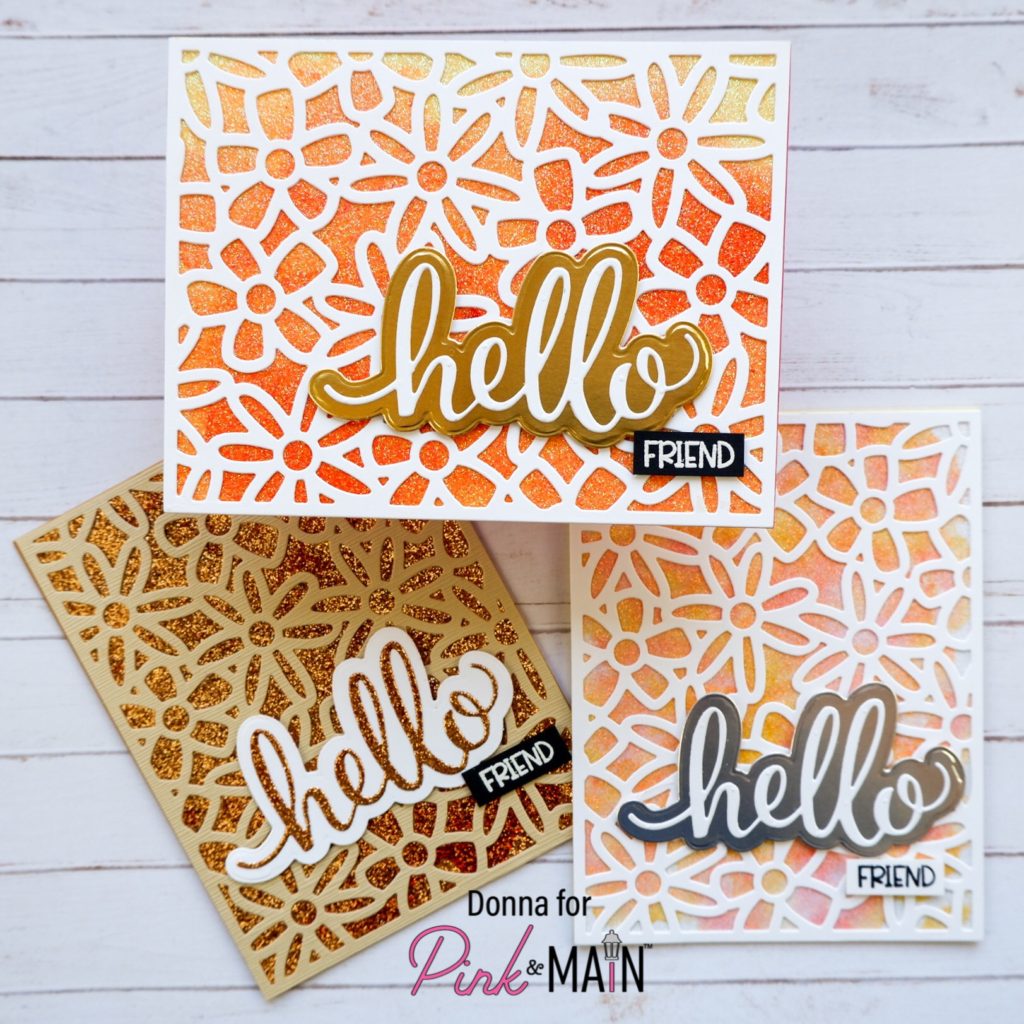 I have a set of three cards for you today that use the Glitter Papers from the March release from Pink and Main, but with a twist. I've also made a video of the paper alteration process, because it was really interesting to do, and I think it's interesting to watch! You can see it here:
I have used alcohol inks to add some colour and movement to the glitter papers. This first paper was made using a pale yellow glitter paper from the Spring Glitter paper. This is a really light, bright yellow that was easy to over die. I used my ink blending tool, and cut a piece of felt to fit the end of it. If you have that tool, you can try that too (It does stain the end!), but there is actually a proper alcohol ink blending tool (that I was too impatient to order and what for!) Then, using Copic refills and lots of colourless blender solution, I swirled on some oranges and pinks. You could also use alcohol inks for this – again, I just used what I had to hand. I've linked to some inks below that would make gorgeous cards, if you are interested.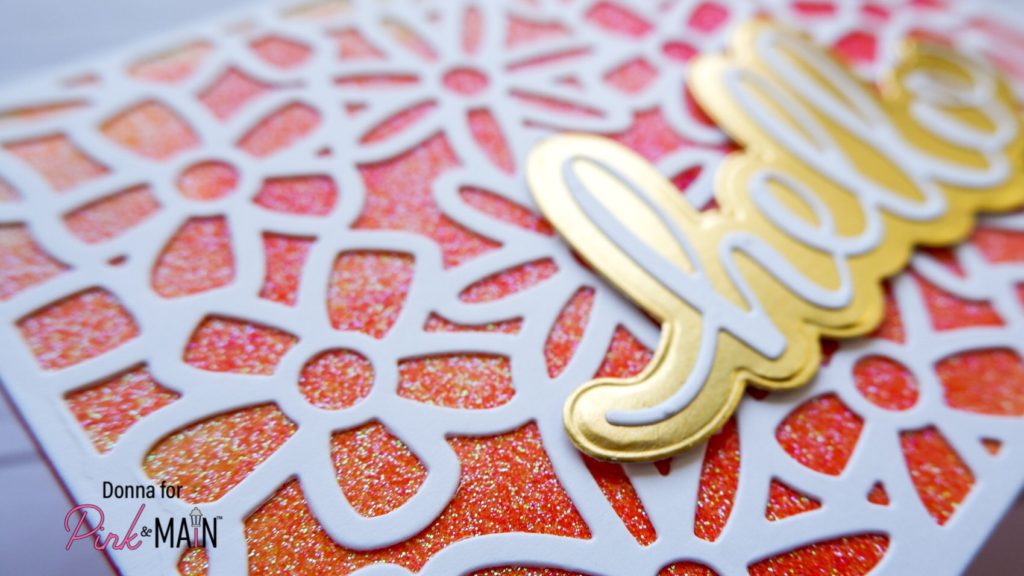 The next card was made the same way using a piece of white glitter paper from the Metallics Glitter Paper pack. I again chose yellows, pinks and pale coral colours, and used the same method of using the ink blending tool.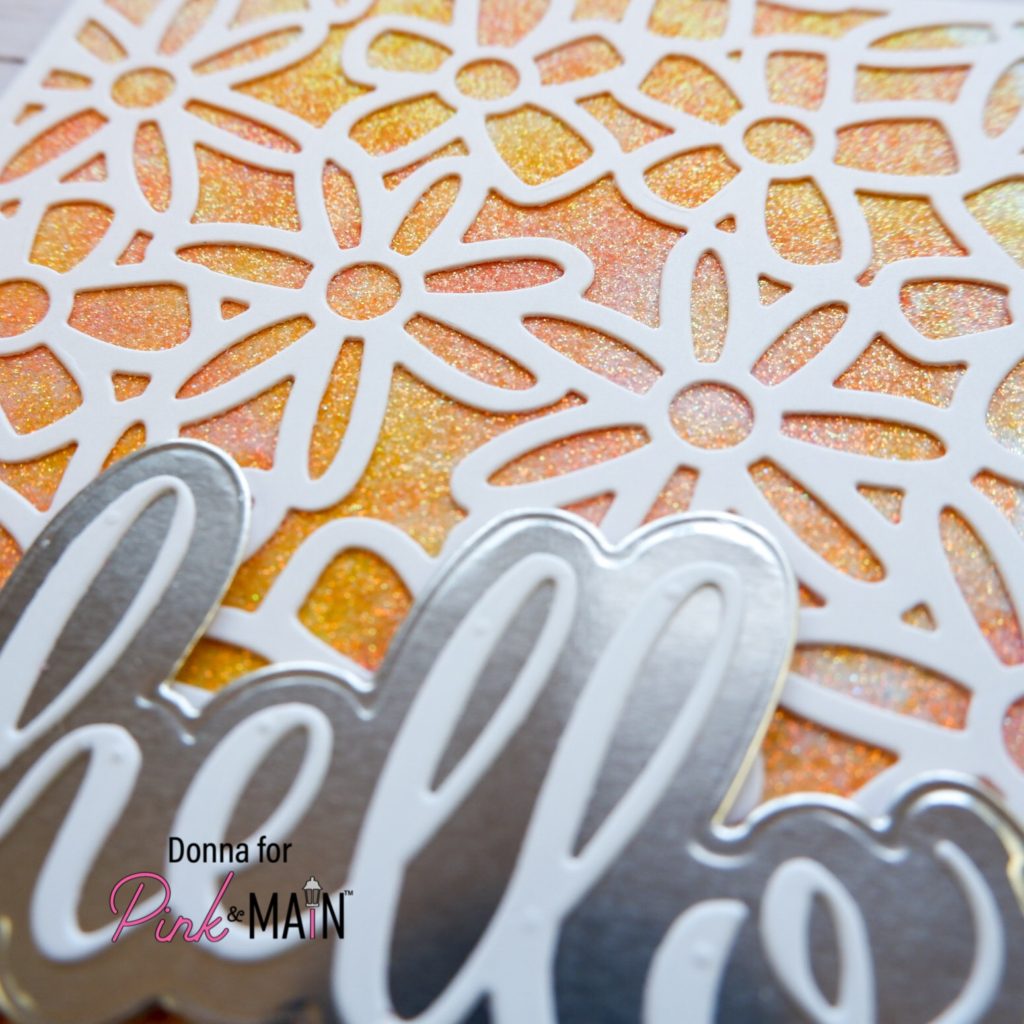 The third piece of glitter paper called for different treatment as the base colour was darker. It was the Copper colour from the Fall Glitter Paper Pack. Instead of very carefully dabbing on the alcohol inks ( the copic refills) I poured them on, and let them swirl before drying them with my heat tool. Even with the extra ink, the effect is much more subtle on the darker glitter. I did learn, however, that this glitter paper can take a LOT of ink! It didn't run through to the back at all, only colouring the back at the sides as it ran off and over!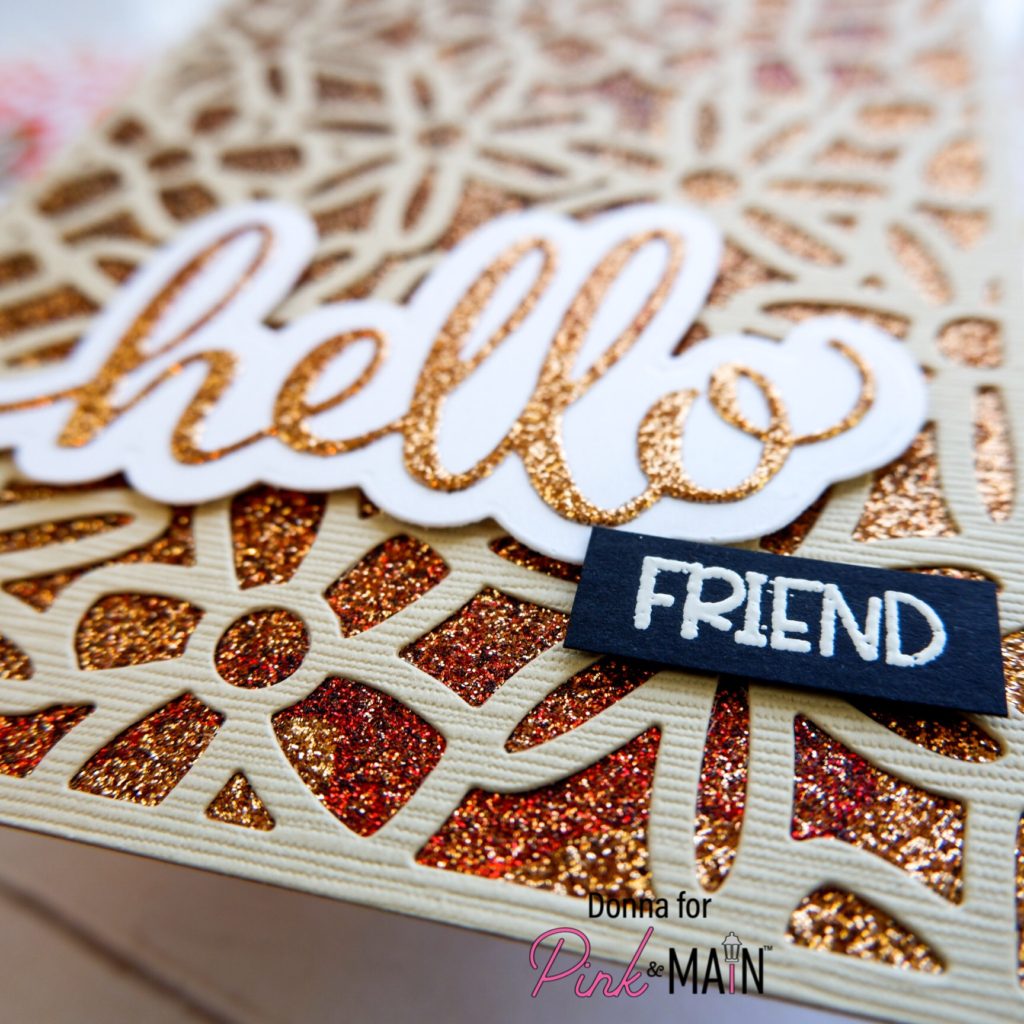 The cover die that I used is called Flower Cover Die, and it's such a fun die for modern florals and bright colours. However, today I've gone a bit more subtle, and I really like the effect. I used Pink and Main's new EZ Squeeze glue to adhere the die to the glitter paper. I think glue is better than tape for this job.
The die cut sentiment comes from Pink and Main's Hello die, sadly no longer available, with its matching background, and the stamped sentiment comes from the Cherry Blossom stamp set. I LOVE the sentiments on this set! This time, I did a little stamp surgery and cut the word friend from the rest of the sentiment.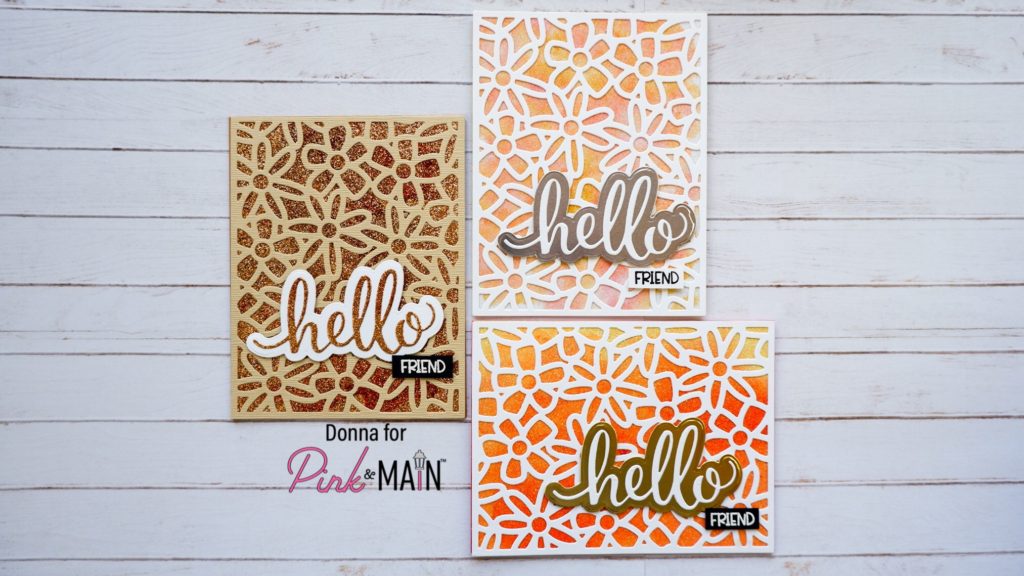 I hope that you like these cards as much as I do, and that you are inspired to play with and alter papers just for fun!
Until next time,
Blessings,

Hero Arts White Embossing Powder Fine Detail
Shop at:
SBC | SSS

Versamark Ink
Shop at:
SBC | SSS

Versafine Onyx Black ink
Shop at:
SBC | SSS

Pink and Main Cherry Blossom stamp set
Shop at:
P&M | SSS

Pink and Main Flower cover Die
Shop at:
P&M | SSS

Pink and Main Glitter Paper Metallics
Shop at:
P&M | SSS

Pink and Main Glitter Paper Spring
Shop at:
P&M | SSS

Pink and Main Glitter Paper Fall
Shop at:
P&M | SSS

Tim Holtz Alcohol Ink set
Shop at:
SSS

Ink blending tool Applicator Foam
Shop at:
SBC | SSS

Neenah Solar White 80lb card
Shop at:
SSS

Neenah Solar White 110lb card
Shop at:
SSS

Pink and Main EZ squeeze craft glue
Shop at:
P&M | SSS