Hello friends! It's Donna here, and I've been playing up a storm with some new embossing powders! Despite how long I've been making cards, I've never had a lot of coloured powders, and I've been used coloured inks with clear embossing powder for years. This is a great way to stretch your supplies, and is good for colours that you don't have powders for, but there are so many fun techniques you can try with coloured powders, and I'm sharing one of those today. I've even made a video of the making process for you. I hope you enjoy it.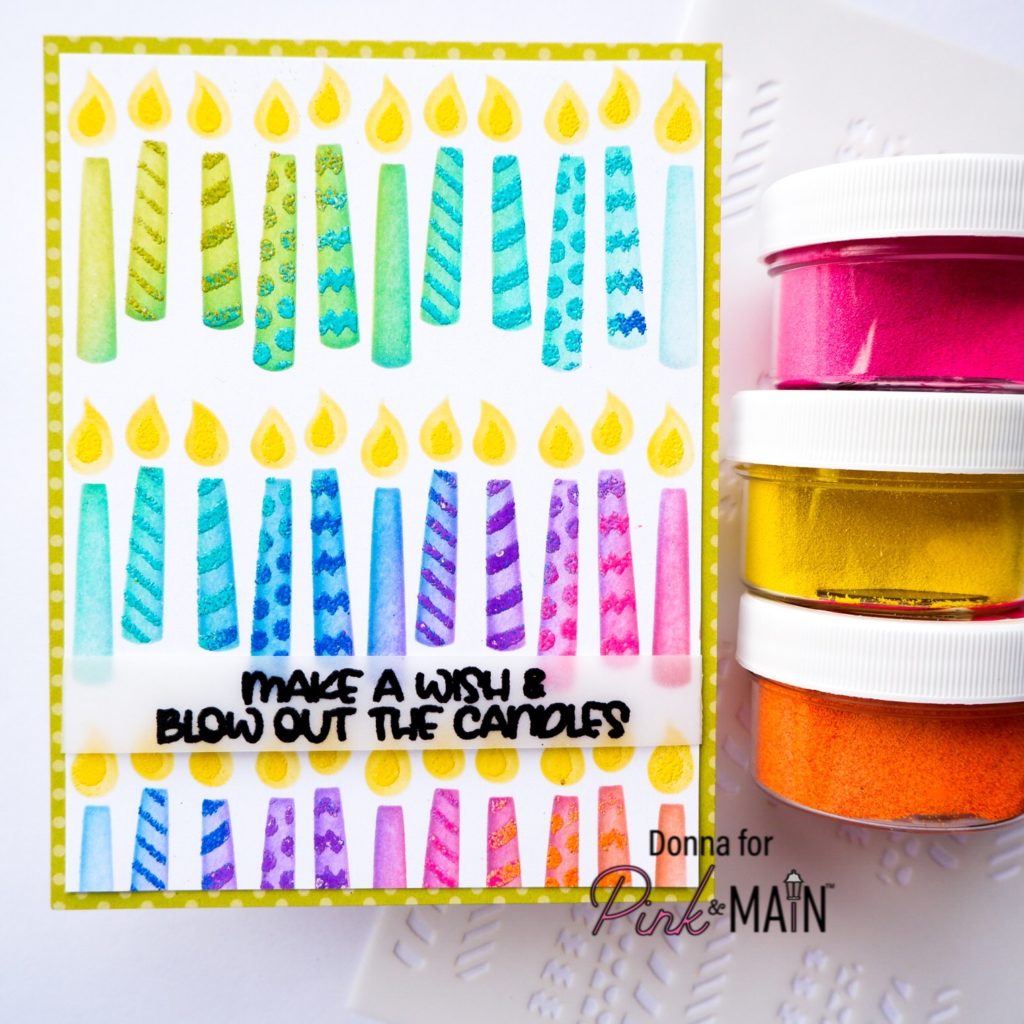 The other hero of today's card is the Birthday Candles Stencil set from Pink and Main, which has four stencils for really fun layered candles. I used a range of rainbow colours, and inkblended them diagonally across a white panel. From top left, I used Bamboo, High Dive, Ultramarine, How Mama, Worn Lipstick and Orange cream inks. I then switched stencils and blended the bigger flames with Simon Says Sunbeam ink. The next step was to make sure the panel was completely dry, and static free. I used the brand new Pink and Main Magic Anti Static Brush.
The whole cardmaking process is on my YouTube Channel, as well as a full list of the supplies I used. You can see it below.
I then laid the smaller flame stencil in place, and used my embossing ink to 'stamp' through the holes. I then sprinkled the Sour Lemon embossing powder over this and heat embossed it. I once again used the antistatic brush, and then repeated the Embossing ink Stamping. I sprinkled the next six powders in rainbow order, starting at the lower right corner, and working my way up. The video shows this process, But the main thing is that I didn't add heat until the whole panel had powder. The colours I used, in order from bottom right working up were Orange Pop, Bubblegum, Grape Soda, Blueberry Fizz, Aquatini and Sour Apple.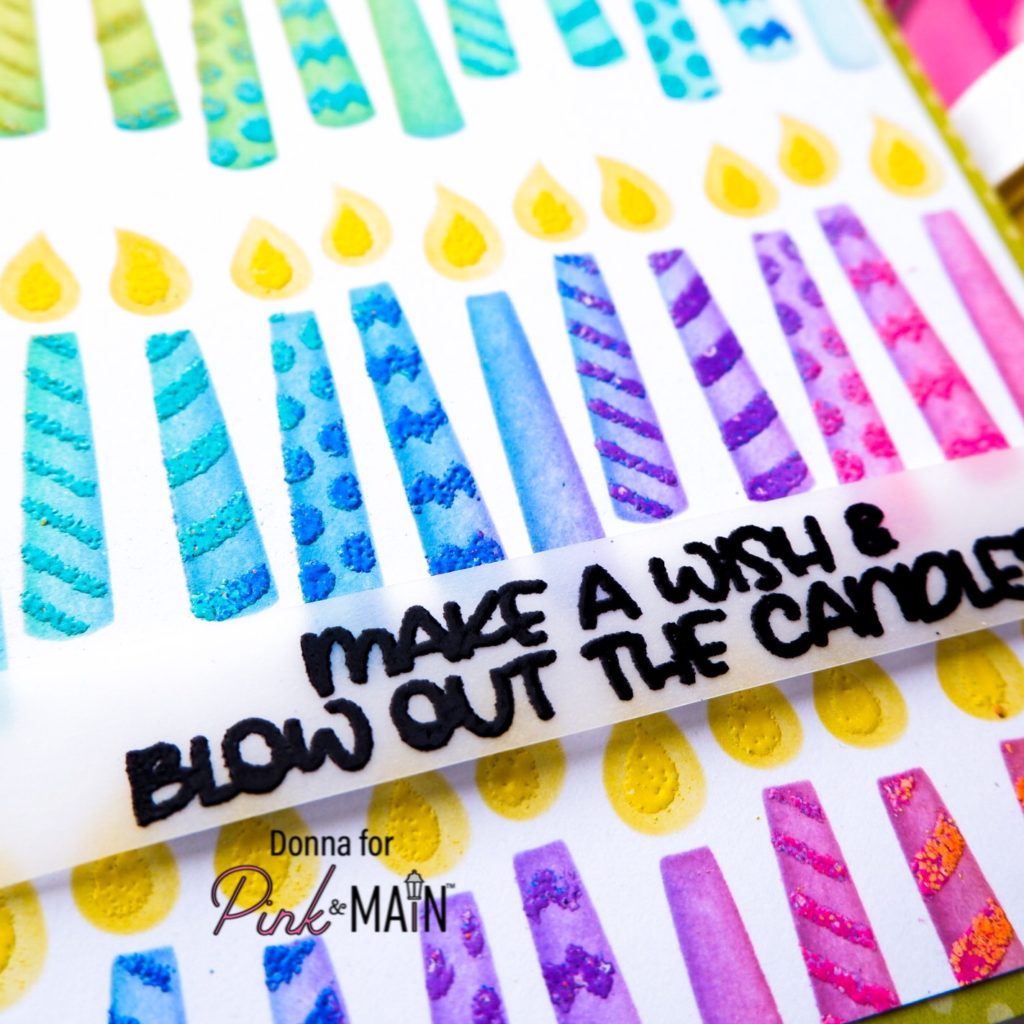 The sentiment comes from the fun Party Animal Stamp set and I stamped this in Black VersaFine Ink, and heat embossed it with Licorice Embossing Powder. The result was a really crisp dark sentiment. I wrapped this around the panel, then stuck this down to a card base to which I'd added a sheet of green dotty paper from the Year Round Dots and Stripes paper pack.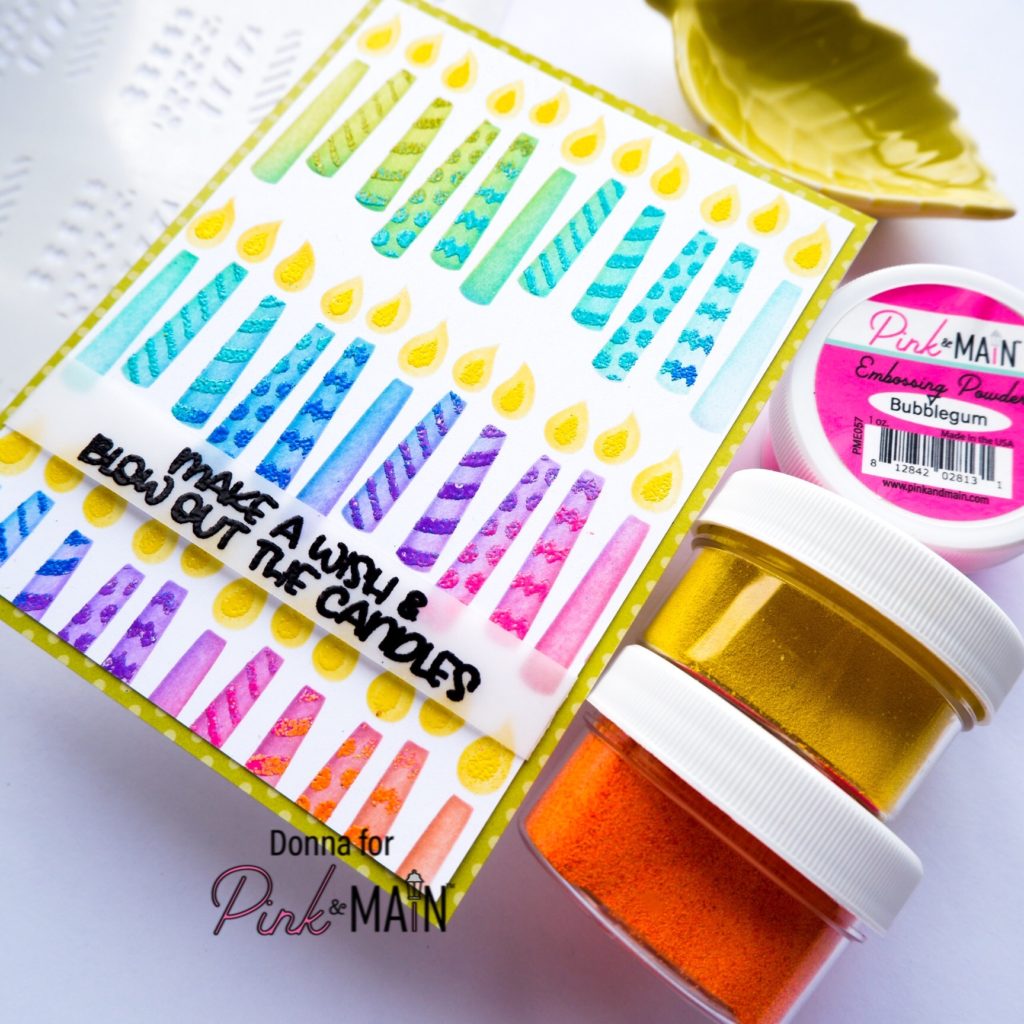 That's all for today's card. I really enjoyed playing with new products and experimenting.
Until next time, may your days be full of colour!
Blessings,
These are the supplies I used. You can click on the link to shop. Where available, I have used affiliate links, which means that I will receive a small commission at no cost to you. I've tried to link to companies in different countries, so you can save on postage costs. Thank you so much for your support.

Pink and Main mini Ergonomic Blender Brush
Shop at:
P&M | SSS

Versafine Onyx Black ink
Shop at:
SBC | SSS

Altenew warm and Cosy inks mini
Shop at:
ALT | SSS

Altenew Tropical Forest Inks mini
Shop at:
ALT

Simon Says Stamp High Dive ink
Shop at:
SSS

Simon Says Stamp Sunbeam ink
Shop at:
SSS

Simon Says Stamp Hot Mama ink
Shop at:
SSS

Altenew Lapis Lazuli inks
Shop at:
ALT | SSS

Pink and Main Year Round Dots and Stripes
Shop at:
P&M | SBC | SSS

Pink and Main Candles Stencils (set of 4)
Shop at:
P&M | SBC | SSS

Pink and Main Party Animal
Shop at:
P&M | SBC | SSS

Pink and Main Magic Anti Static Brush
Shop at:
SBC

Neenah Solar White 110lb card
Shop at:
SSS

Pink and Main Embossing Powder Grape Soda
Shop at:
P&M | SBC

Pink and Main Embossing Powder Aquatini
Shop at:
P&M | SBC

Pink and Main Embossing Powder Sour Apple
Shop at:
P&M | SBC

Pink and Main Embossing Powder Blueberry Fizz
Shop at:
P&M | SBC

Pink and Main Embossing Powder Orange Pop
Shop at:
P&M | SBC

Pink and Main Embossing Powder Bubblegum
Shop at:
P&M | SBC

Pink and Main Embossing Powder Sour Lemon
Shop at:
P&M | SBC

Pink and Main Embossing Powder Licorice
Shop at:
P&M | SBC

Simon Says Stamp Vellum
Shop at:
SSS