Hello crafty friends. It's Donna here from donnaisplayingpaper! Do you have butterflies around where you live at the moment? I'm loving the Tokyo butterflies. Having come from a rural area in Australia, I've tended to think of beautiful nature in terms of sweeping views, but living in the city has given me a new appreciation for the small things that create beauty in a greyer landscape. And butterflies would be high on my list.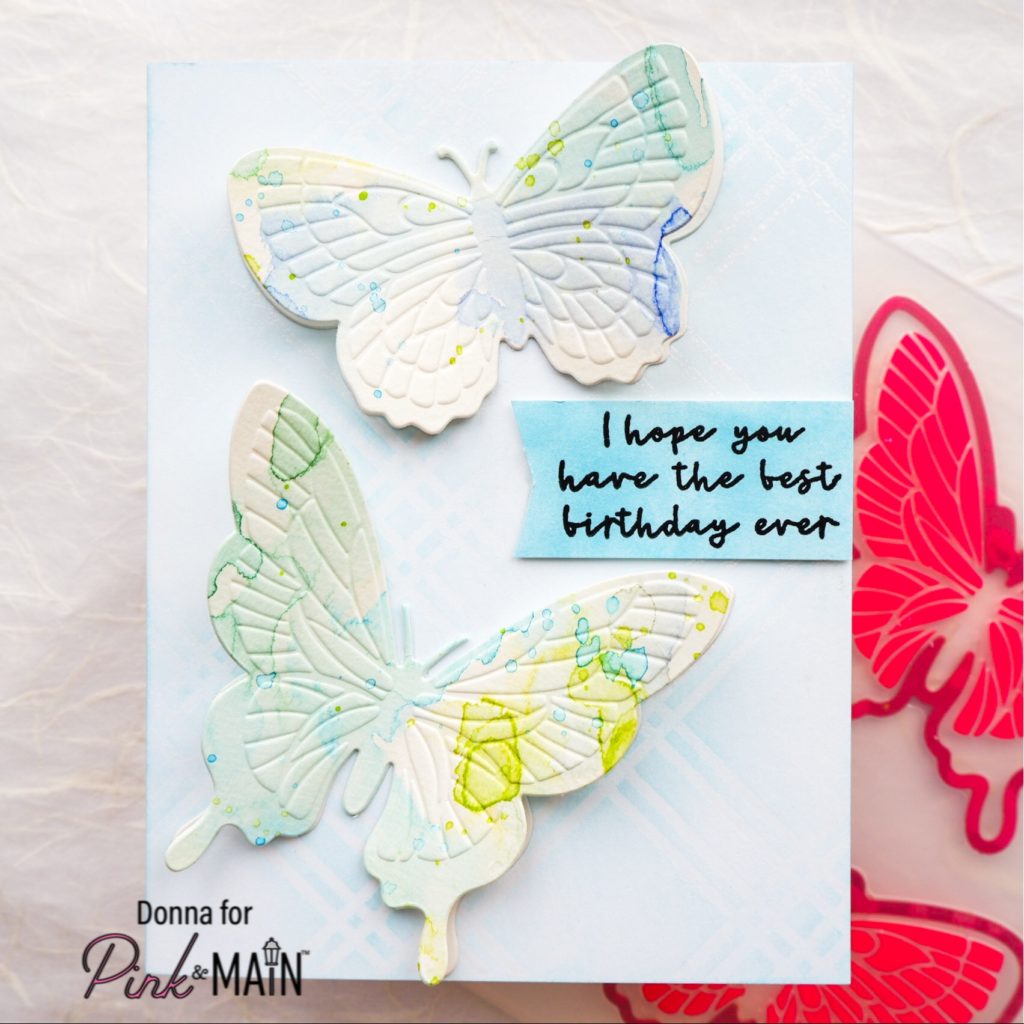 This card has been made using the most clever craft resource I've seen for a while, and that is the Butterflies Cut and Emboss Folder from Pink and Main. This clever contraption gives the most beautiful butterflies ever! The are detailed, textured and oh so lovely! The embossing folder goes through your die cutting machine and both cuts and embosses the butterfly at the same time, I have an old sizzix machine, and for the sandwich, I folded back both of the extra tabs to get back to the base platform, and used two embossing plates. Every machine will be different, I'm sure. For this card, I cut two of each butterfly, one using a watercoloured panel, and another on white cardstock, which I lightly inkblended with some pale blue ink, Honestly, you could definitely skip this step, because you have to get pretty low to the card to even see this detail, although the photo below does show it. I glued both butterflies together in the centres using glue, and left the wings floating free.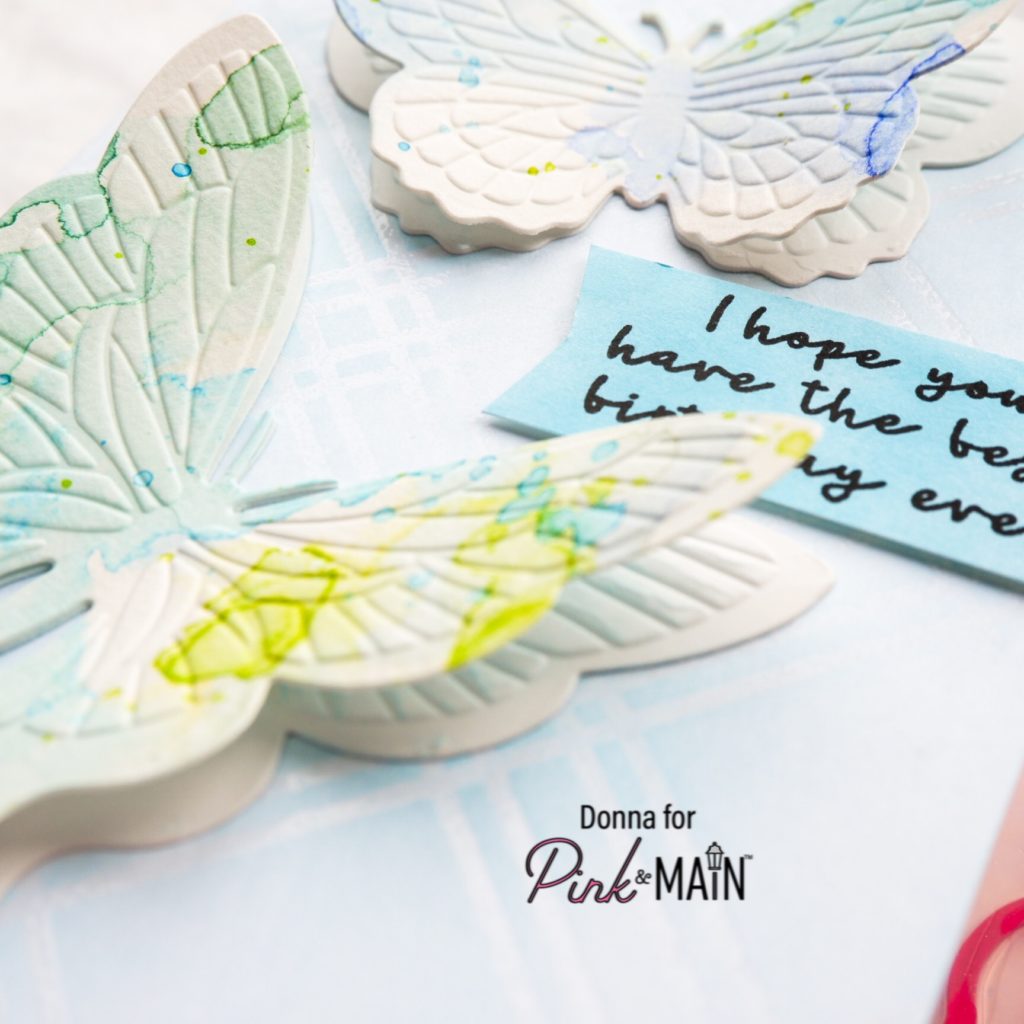 The background was made directly onto the card base. I stamped the Plaid 3 Stamp, also from Pink and Main, using Clear Embossing Ink and then melted Clear Embossing Powder over the top. I then ink blended over the top of this with Tumbled Glass Distress Ink, to give a faint plaid pattern. The sentiment is from a stamp set called Floral Wings, which has 8 different sentiments in this lovely script font, as well as three gorgeous floral/ insect images – a bee, a butterfly, and a dragonfly. I chose the birthday sentiment, as that's what I use most of in my cardmaking, and stamped it in Versafine Onyx Black ink onto a scrap of card that I had ink blended with the same Tumbled Glass ink, this time using a much heavier hand to get a brighter blue, that still matched the colours of the card. I cut the end of the banner by cutting into the centre, then cutting from each corner into the central cut. I use banners often for sentiments, and I like this way of making them, as it gives a nice symmetrical end.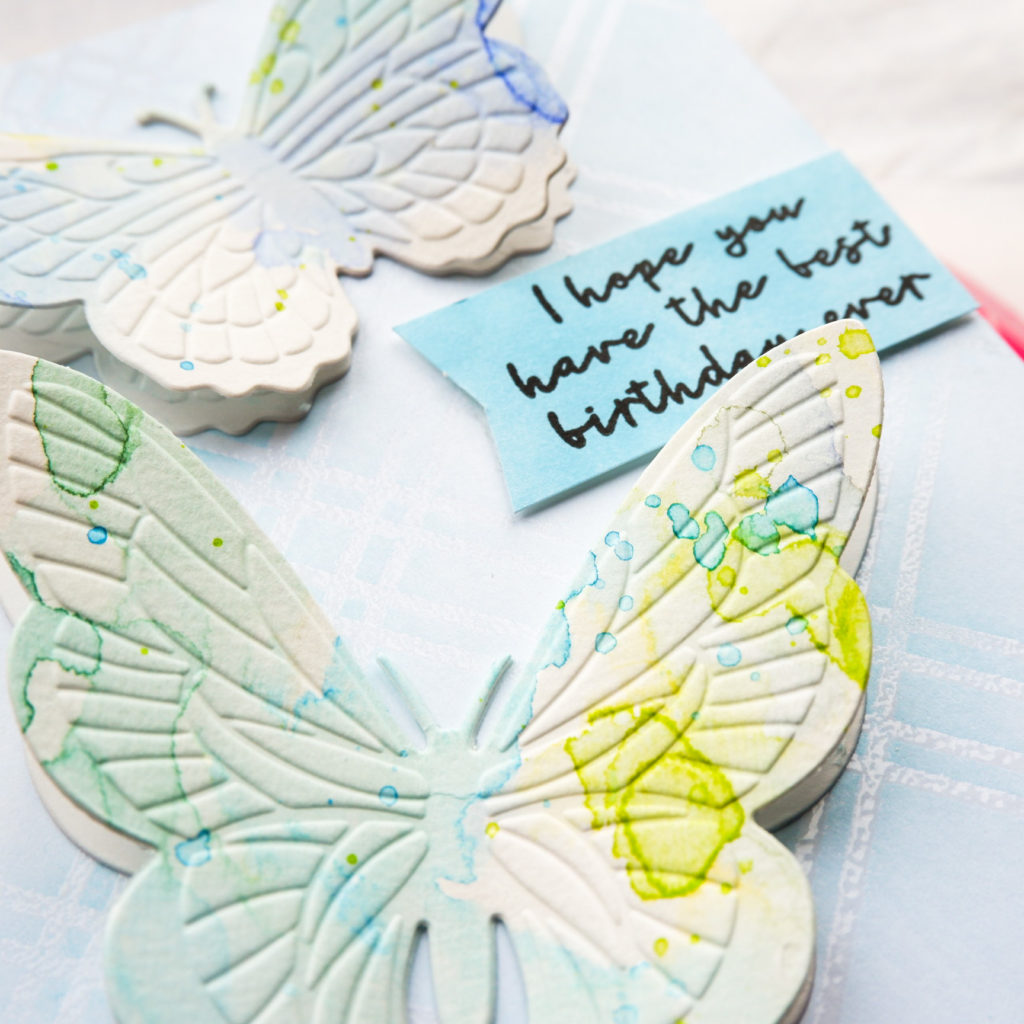 That's all from me today, I hope you've enjoyed this soft and delicate card. Until nest time, may you find beauty wherever you look. I'll be out looking for the beauty around my little part of the world.
Blessings,
These are the supplies I used. You can click on the link to shop. Where available, I have used affiliate links, which means that I will receive a small commission at no cost to you. I've tried to link to companies in different countries, so you can save on postage costs. Thank you so much for your support.

Distress Ink Tumbled Glass
Shop at:
SBC | SSS

Pink and Main Floral Wings Stamp set
Shop at:
P&M | SBC | SSS

PInk and Main Butterflies Cut and Emboss Folder
Shop at:
P&M | SBC | SSS

Pink and Main Plaid 3 stamp
Shop at:
P&M | SBC

Pink and Main Embossing and Watermark ink
Shop at:
P&M | SBC

Pink and Main Clear Embossing Powder
Shop at:
P&M | SBC

Pink and Main EZ squeeze craft glue
Shop at:
P&M | SSS