It's Donna here, coming to you from a completely new location. I'm spending a few weeks in Western Australia. I've dipped my toes in the Indian Ocean and have seen the sun set over the sea. I have a bunch of cards and a video for you today.
You can see the video on YouTube below.
The heroes of the card are the gorgeous Cut and Emboss folders. With just one pass through my cutting machine I got both the shape and the lovely texture in one. The two folders that I used for todays cards are: Fall Leaves Cut and Emboss folder and Butterflies Cut and Emboss folder, both from Pink and Main.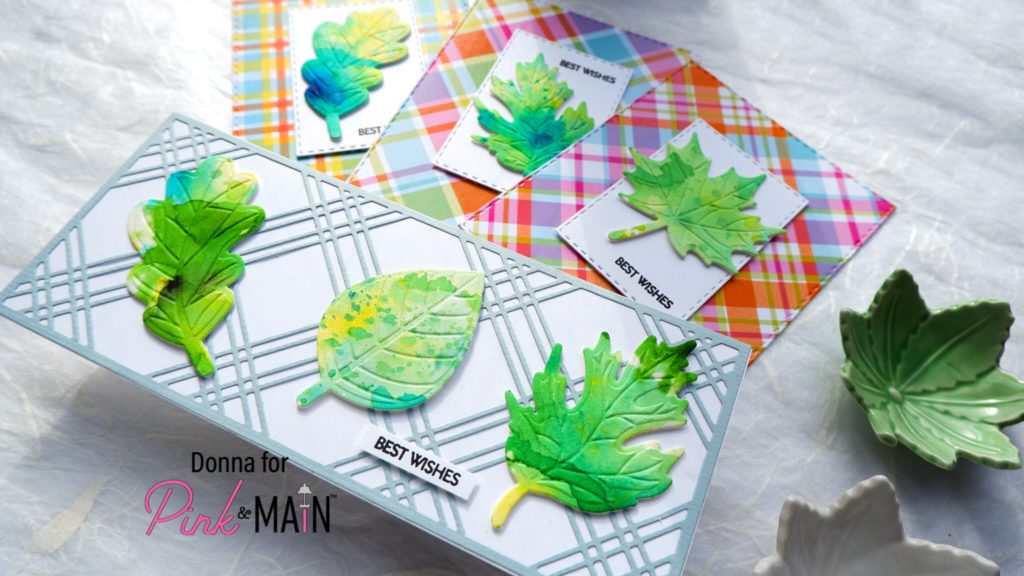 I created the watercolour paper that I cut from by adding watercolour powders to it and drying with a heat tool. By sprinkling different colours and drying quickly, I was able to get a good variation in colour. Once the butterflies and leaves were cut, I assembled the cards. Three of the cards are made using Pink and Main's  Plaid Cover Die B and the Plaid Slimline die to cut some pale backgrounds. In the case of the butterflies, I glued the bodies directly to the page, and popped the wings up with doubled foam tape so that they would look like they were flying off the page.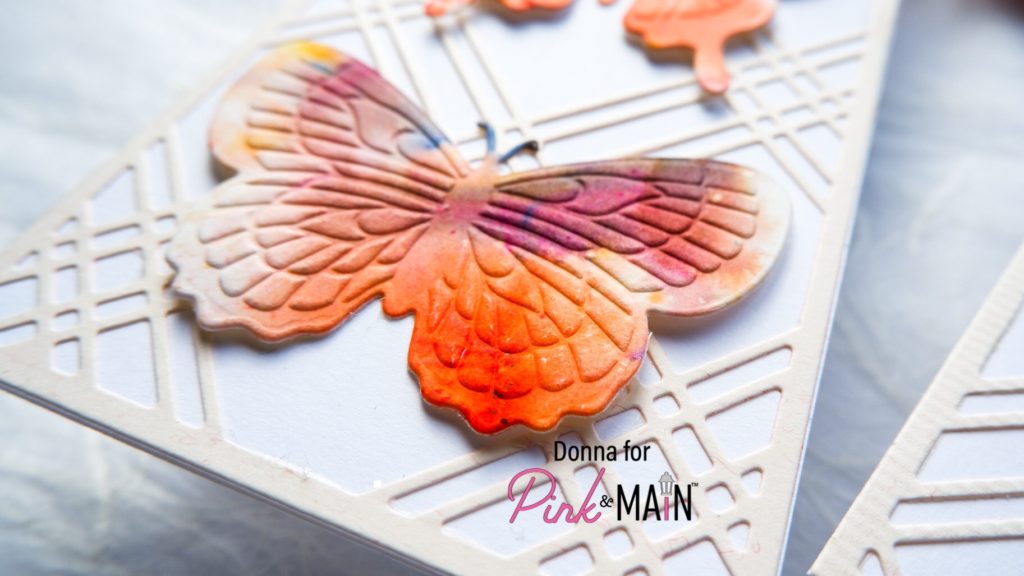 I had quite a few leaf cutouts, and I made a set of three cards using the bright fun plaids from the Year Round Plaids 6 x 6 paper pad. I cut both the plaid paper and a white central panel using dies from the Stitched Rectangles 1 set.
The Best Wishes sentiment on all of the cards comes from a stamp set called Modern Foliage. I wanted something small and subtle so that the leaves and butterflies would be the main attraction. 
I hope that you've enjoyed these cards and that you are having a great week. I've seen lots of reports of snow in various countries, so take care. And I'll take care not to get sunburnt! Until next time, 
Blessings,
Donna
These are the supplies I used. You can click on the link to shop. Where available, I have used affiliate links, which means that I will receive a small commission at no cost to you. I've tried to link to companies in different countries, so you can save on postage costs. Thank you so much for your support.

Pink and Main Stitched Rectangles 1
Shop at:
P&M | SBC

Pink and Main Year Round Plaids
Shop at:
P&M | SBC | SSS

PInk and Main Butterflies Cut and Emboss Folder
Shop at:
P&M | SBC | SSS

Pink and Main Fall Leaves Cut and Emboss Folder
Shop at:
P&M | SBC | SSS

Pink and Main Plaid cover die b
Shop at:
P&M | SBC | SSS

Pink and Main Plaid Slimline Die
Shop at:
P&M | SBC | SSS

Pink and Main Modern Foliage Stamp set
Shop at:
P&M | SBC | SSS